Christian Mother of 5 Asia Bibi Still on Death Row After Judge Leaves Appeal Hearing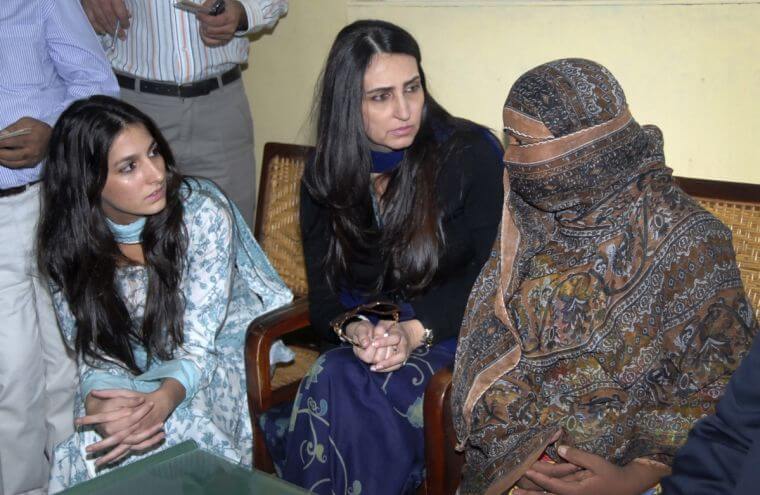 The Pakistani Supreme Court appeal hearing on the case of Asia Bibi, the Christian mother of five who was sentenced to death after being accused of committing blasphemy against Islam, has been indefinitely adjourned after one of the judges removed himself based on a possible conflict of interest.
BBC News reports that hundreds of riot police were deployed around the Supreme Court in the capital, Islamabad, fearful of actions by radicals who demand that Bibi be put to death for allegedly insulting the Islamic prophet Muhammad, something which she denies.
Judge Iqbal Hameed ur Rehman, one of the three judges who was was supposed to hear Bibi's appeal, recused himself on Thursday from the case.
"I was a part of the bench that was hearing the case of Salmaan Taseer, and this case is related to that," Rehman explained, as reported by AFP. The judge was referring to Taseer, the former governor of Punjab province who was killed by his own bodyguard in 2011 for speaking out in support for Bibi.
Persecution watchdog groups have said that the news leaves the Christian mother of five in a great state of uncertainty.
An officer for the British Pakistani Christian Association who was present at the hearing said: "I was present at the hearing and it only took 1 or 2 minutes and the hearing was adjourned. I looked at Ashiq Masih and saw the anguish and anger in his eyes. As he left the court he was visibly shaken by yet another postponement in the exceedingly long legal saga of Asia Bibi," he said, referring to Bibi's husband.
"I myself felt very disappointed as the nature of the postponement is very unusual, for Asia it must be another huge blow to her confidence."
Advocate Saif-Ul-Malook, Bibi's Supreme Court Lawyer, told International Christian Concern that he is still "optimistic" that Bibi will be given justice.
"I hope it will not take too long for the next hearing [to be scheduled] with a new bench. This was a routine matter. It is not unusual for [hearings] to be postponed due to an incomplete bench," he said.
ICC's Regional Manager, William Stark, added: "It is disappointing to see Asia's appeal delayed once again due to procedural issues. It has been seven long years since Asia had this false blasphemy accusation completely change her life."
Stark also said that he is hopeful that the Supreme Court will reconstruct the bench hearing the final appeal, and urged Pakistani judges to resist pressure from radicals and extremists who want Bibi put to death.
"If decided on the merits, we believe that the court's only conclusion will be to acquit. We also hope that the decision made by the Supreme Court will lay a foundation for reforming Pakistan's notorious blasphemy laws," he continued.
"This will be a signal to both Pakistan and the world that justice will prevail over extremism, even when a religious minority is accused of blasphemy."
Bibi was sentenced to death in 2010 after she was accused by a group of Muslim co-workers of insulting the Muslim prophet Muhammad, and will be the first woman in Pakistan executed under the blasphemy laws if the ruling is upheld.
Other watchdog groups, including The American Center for Law and Justice, have been urging Christians around the world to stand up for Bibi, sign petitions, and save the Christian mother from death.
Over 513,000 people have signed the ACLJ's petition to save Bibi, calling her case "the ultimate human rights violation."