Atheist Author Sam Harris Slams Obama's Comment That 'ISIS Is Not Islamic'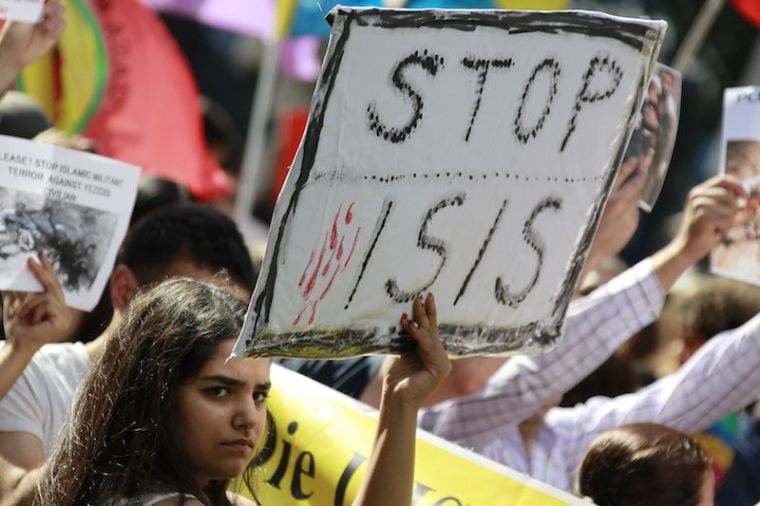 Atheist author Sam Harris has joined the growing list of secular and religious voices who have called out President Barack Obama for comments he made on terror group ISIS, suggesting that the group is not Islamic.
"As an atheist, I cannot help wondering when this scrim of pretense and delusion will be finally burned away — either by the clear light of reason or by a surfeit of horror meted out to innocents by the parties of God," Harris wrote in a blog post titled "Sleepwalking Toward Armageddon," in response to Obama's address to the nation on Wednesday.
"Which will come first, flying cars and vacations to Mars, or a simple acknowledgment that beliefs guide behavior and that certain religious ideas — jihad, martyrdom, blasphemy, apostasy — reliably lead to oppression and murder?"
The terror group is active in Iraq and Syria, and has captured several cities, targeted minorities, including Christians, and has committed savage acts, such as beheadings on video and mass rapes.
Obama declared that the U.S. will increase airstrikes on ISIS targets in Iraq, promising the American people that his administration will fight the terror group wherever it operates.
In his speech, Obama said: "Now let's make two things clear: ISIL is not Islamic. No religion condones the killing of innocents, and the vast majority of ISIL's victims have been Muslim. ... ISIL is a terrorist organization, pure and simple. And it has no vision other than the slaughter of all who stand in its way."
Harris pointed out that ISIS, or the Islamic State as it is also known, has attracted hundreds of fighters from oversees with its ideology, and more British Muslims have joined the terror group than those who have volunteered to serve in Britain's armed forces.
"I would not want to create the impression that most Muslims support ISIS, nor would I want to give any shelter or inspiration to the hatred of Muslims as people," the atheist author states.
"In drawing a connection between the doctrine of Islam and jihadist violence, I am talking about ideas and their consequences, not about 1.5 billion nominal Muslims, many of whom do not take their religion very seriously."
Harris, who has criticized atheist voices who have claimed that all religions are equally as bad, added:
"Understanding and criticizing the doctrine of Islam — and finding some way to inspire Muslims to reform it — is one of the most important challenges the civilized world now faces. But the task isn't as simple as discrediting the false doctrines of Muslim 'extremists,' because most of their views are not false by the light of scripture. A hatred of infidels is arguably the central message of the Koran."
Other atheists such as Bill Maher also criticized Obama for his remakes that ISIS isn't Islamic, stating that "there is a connecting tissue."
Though an outspoken critic of Christianity, the TV host pointed out why the two religions cannot be compared:
"Vast numbers of Christians do not believe that if you leave the Christian religion, you should be killed for it. Vast numbers of Christians do not treat women as second-class citizens. Vast numbers of Christians do not believe that if you draw a picture of Jesus Christ you should get killed for it."
Communities Digital News directly addressed Obama's assertion, and presented an article offering 10 verses from the Qur'an that it says show that ISIS is indeed an Islamic group.
Daniel Pipes, the founder and president of the Middle East Forum, a Philadelphia-based research institute, stated that Obama and former presidents Bill Clinton and George W. Bush have all argued that terror groups who have targeted the U.S. are not Islamic. He said, however, that the presidents are "non-Muslims and politicians, rather than Muslims and scholars," and therefore "are in no position to declare what is Islamic and what is not."
"In the end, though, neither U.S. presidents nor Islamist apologists fool people. Anyone with eyes and ears realizes that the Islamic State, like the Taliban and al-Qaeda before it, is 100 percent Islamic," he added.
Christian pastor Rev. Patrick Mahoney said in a statement on Thursday that Obama's claim that most ISIS victims have been Muslim "is simply not true."
"The president failed to mention the tens of thousands of Christians, Yazidis and other religious minorities who have been driven from their homes, brutalized, tortured, forced to hide in the mountains for their safety and their having to watch their children die in their arms," Mahoney argued.
"His failure to address the full scope of violence directed toward these religious minorities by ISIL shows a stunning disregard and lack of sensitivity for their plight and basic principles of compassion and justice. One can only imagine how Iraqi Christians and Yazidis felt watching that speech last night."