Atheist Bill Maher Defends Christians as Host Charlie Rose Compares Christianity to Islam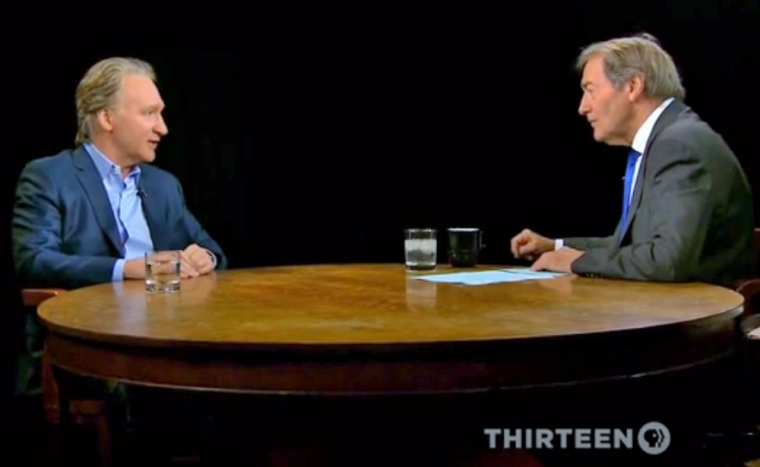 Appearing on Charlie Rose's PBS show this week, HBO's "Real Time" host Bill Maher rebuked him for linking Islam to Christianity, defending Christians by saying a vast numbers of them do not believe in violence or treat women as second class citizens.
Maher, a self-proclaimed atheist, began by refuting former Democratic presidential candidate Howard Dean's recent statement that vast numbers of Muslims are not like ISIS in Iraq and Syria, an al-Qaeda offshoot that seeks to form an Islamic emirate in the Levant region through "jihad."
Interrupting Maher, Rose asked, "Behind every Muslim is a future member of some radical?"
"Vast numbers of Christians do not believe that if you leave the Christian religion you should be killed for it," Maher responded. "Vast numbers of Christians do not treat women as second class citizens … Vast numbers of Christians do not believe if you draw a picture of Jesus Christ you should get killed for it. So yes, does ISIS do Khmer Rouge-like activities where they just kill people indiscriminately who aren't just like them? Yes. And would most Muslim people in the world do that or condone that? No."
Maher then quoted a Pew poll held in Egypt a few years ago, noting that 82 percent of respondents said stoning is the appropriate punishment for adultery, and over 80 percent thought death was the appropriate punishment for leaving the Muslim religion.
The comedian then added that to claim that Islam is like other religions is "just naive and plain wrong."
Maher also remarked that "we're upset that ISIS is beheading people which we should be upset about but Saudi Arabia does it and they're our good friends because they have oil."
Rose pointed out that Arab League nations are now also fighting ISIS. "They're joining us in the fight. As is the Emirates. As is Jordan. They are all Muslim countries."
Maher responded by saying, "Well, they are both fighting ISIS and they are for ISIS."
"If they were beheading people in Vatican City, which is the equivalent of Mecca, don't you think there would be a bigger outcry about it? So this is the soft bigotry of low expectations with Muslim people. When they do crazy things and believe crazy things, somehow it's not talked about nearly as much," Maher added.
"The Koran absolutely has on every page stuff that's horrible about how the infidels should be treated," Maher went on to say.
President Obama said Wednesday that ISIS "is not Islamic."
ISIS men have killed hundreds of people in Iraq as well as beheaded two American journalists, James Foley and Steven Sotloff. Numerous members of the Christian and Yazidi minorities have also been killed, and tens of thousands of them have fled their homes.
"No religion condones the killing of innocents, and the vast majority of ISIL's victims have been Muslim," Obama said. "ISIL is a terrorist organization, pure and simple. And it has no vision other than the slaughter of all who stand in its way."
ISIS, or Islamic State of Iraq and Syria, is also known as the Islamic State and ISIL.
Earlier this year, Maher invited Christian Coalition founder Ralph Reed to his show and asked why Jesus needed to come and make some corrections to the Old Testament about laws such as stoning of adulterous women to death.