Atheist Billboard in Nebraska Removed After Residents Complain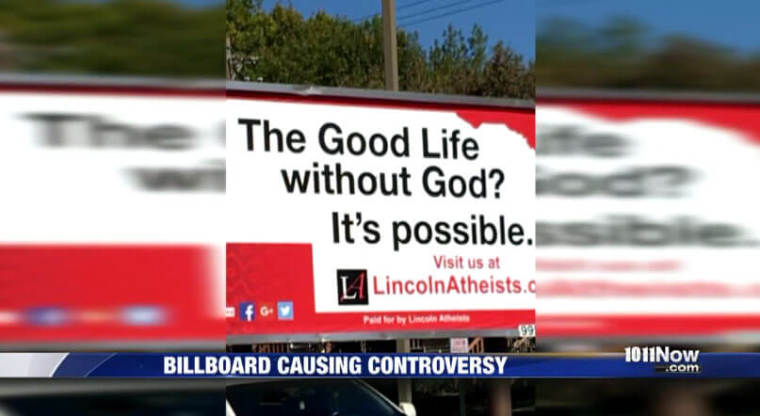 A billboard, sponsored by the Lincoln Atheists and which read, "The Good Life Without God? It's possible," has been taken down by the advertising company after local residents threatened to boycott businesses in the area.
The signage was to stay up at Subway-Phillips 66 in Lincoln, Nebraska, until Nov. 10, according to the contract the Lincoln Atheists signed with Lamar Advertising, but it was brought down earlier this week, Lincoln Journal Star reported.
The billboard was taken down after several residents threatened to stop doing business at the gas station and store, whose space the advertising company used for the signage.
The advertising company says it has to respect what the landowners, upon which the company leases space, want. "At this point, we're just going to refund them all of their money, even though they got some display time," Scott Morton, general manager of Lamar's Lincoln branch, was quoted as saying.
"We are grateful for the work Lamar did for us and with us, but we are disappointed that we don't get an equal platform to share ideas," Shawn Capler, marketing director of the atheist group, was quoted as saying. "I think a group like ours is necessary because not everyone is religious, but I think everyone needs a community. We'd like to think that we provide community for those without any religious beliefs."
"Our goal of course was never to upset any property owners or anything," the atheist group's president, Brian Aden, was quoted as saying.
"Unfortunately there's a stigma attached to being an atheist and it's very easy for people to complain about that and silence our voice in ways that you can't do with a religious organization," Aden told 1011Now.com.
When the signage went up earlier this month, Aden told atheist blogger Hemant Mehta of the Friendly Atheist, "We are really hoping that the billboard helps bring our message being good and happy without God is possible, especially here in Nebraska where so many feel that God is necessary to live 'The Good Life.'"
Lincoln Atheists seeks "to develop and support the atheist, rationalist, secular humanist, agnostic, skeptic and non-theist communities; to provide opportunities for socializing and friendship among these groups; to promote and defend their views; to protect the first amendment principle of state-church separation; to oppose any discrimination based upon religious conviction, particularly when it is directed at the non-religious; to expose the dangers of supernaturalism and superstition; to promote science; and to work with other organizations in pursuit of common goals."
The atheist group, which started about six years ago, says on its website that it operates in an "open, democratic manner, without discrimination as to gender, race, age, sexual orientation, religious affiliation, ethnic origin, nationality or disability."