Atheist Drops Lawsuit Against Texas Church Building America's Tallest Cross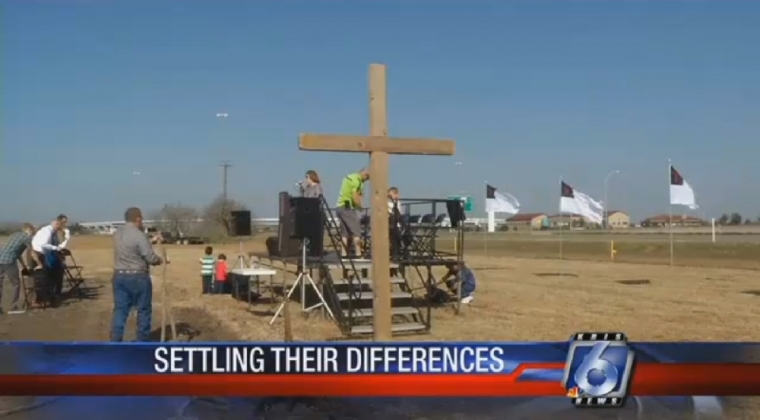 An atheist activist who brought legal action against a Texas church to stop the construction of a 230-foot cross on its property, has agreed to dismiss his case in a "settlement," after the church counter-sued the atheist.
Atheist Patrick Greene, who sued the Abundant Life Fellowship Church in Corpus Christi, Texas, and its Pastor, Rick Milby, over their plan to construct the tallest cross in the Western Hemisphere, dropped the case and pledged this week not to file baseless lawsuits over the freedom of exercise of religion, according to KRISTV.com.
"We hope that Mr. Greene along with atheists everywhere that seem to file baseless lawsuits will now think twice about doing such a thing," Jeremy Dys, senior counsel for First Liberty Institute, which filed the counter suit on behalf of the church, was quoted as saying.
City council member Carolyn Vaughn, who was named in the original lawsuit along with another council member and Mayor Nelda Martinez for attending a groundbreaking ceremony for the cross in January, called it a victory for religious freedom.
"I think it's a day that we need to celebrate for religious freedom and freedom to speak and say what we think. And we should be able to do that," Vaughn was quoted as saying.
In his lawsuit, the atheist activist claimed that Milby had violated the state constitution by giving preference to a specific religion. The lawsuit had also urged the court to admonish the mayor and the council members for attending the groundbreaking.
"The only thing I was hoping to achieve was for a judge to tell the mayor and the two city council (members), you screwed up this time by going there in your official capacity, so don't do it again," Greene was quoted as saying.
 Greene, who is from San Antonio, admitted before the court that his lawsuit was "baseless," "vexatious" and "without merit," according to Chron.
"Today's outcome should send a clear message to anti-religious-freedom activists everywhere: if you abuse the legal system by suing people simply because you don't like how they exercise their religion, there will be legal consequences," the First Liberty counsel said.