Atheist group demands Auburn Univeristy ban coaches from participating in revival events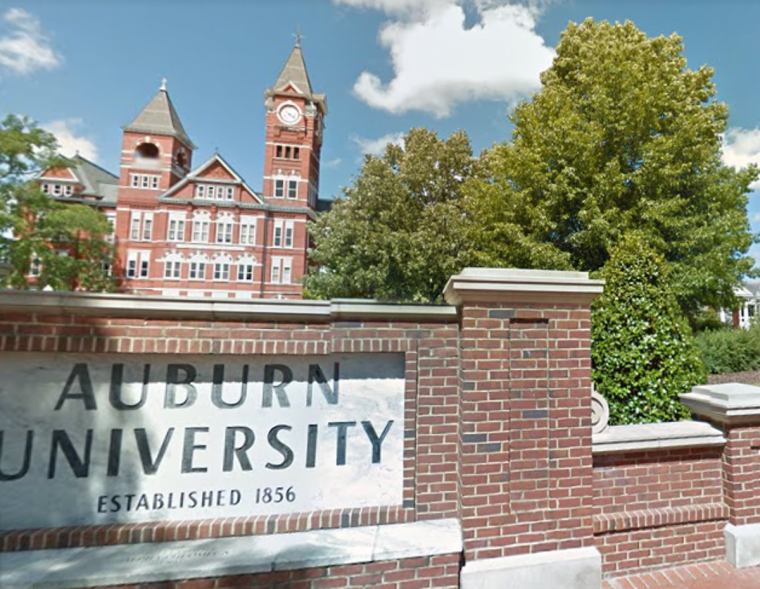 An atheist advocacy group is seeking information related to Auburn University coaches' participation in a campus revival event, where head football coach Hugh Freeze reportedly baptized a player, contending such actions violate the U.S. Constitution. 
The Wisconsin-based Freedom From Religion Foundation, which advocates for a strict separation of church and state, sent a demand letter to Auburn President Christopher Roberts last week objecting to what FFRF attorney Christopher Line called "ongoing constitutional violations occurring in Auburn University's sports programs."
Line expressed concern that Freeze, Auburn basketball coach Bruce Pearl and Auburn baseball coach Butch Thompson participated in a Sept. 12 event titled "Unite Auburn." According to reports, the event was held at Neville Arena, and over 100 people were baptized.
The letter said the purpose of the "religious worship service" was "dedicated to worship and giving messages to Auburn students seeking to grow their faith in God or who were curious about Christianity" and to "unite the Christian community of Auburn under one roof to worship God."
"[I]n a video urging students to attend, head baseball coach Butch Thompson said Unite Auburn would allow students to 'come together and lift the name of Jesus,'" Line wrote. "After the official event ended, it is our understanding that Coach Hugh Freeze participated in a baptism event where he baptized one of his players."
FFRF contends that the Alabama-based university is a public institution, claiming it is "inappropriate and unconstitutional for University employees to use their University position to organize, promote, or participate in a religious worship event." 
Line believes the "ongoing and repeated constitutional violations at the University" run afoul" of the Establishment Clause of the First Amendment. He summarized the constitutional provision as dictating that "the government cannot in any way show favoritism toward religion."
The letter served as an open records request asking the university to provide "all records relating to the 'Unite Auburn' event," "all communications, including emails, sent or received by any athletic department staff members regarding the 'Unite Auburn' event, including Hugh Freeze, Bruce Pearl, and Butch Thompson, and their staff members" and "all financial records related to the 'Unite Auburn' event, including any payment to the University for use of its facilities."
"Auburn's sports programs are full of young and impressionable student athletes who would not risk giving up their scholarship, giving up playing time, or losing a good recommendation from their coach by speaking out or voluntarily opting out of any team religious activities — even if they strongly disagreed with his beliefs," the letter added. "Coaches exert great influence and power over student athletes and those athletes will follow the lead of their coaches." 
Alliance Defending Freedom Senior Counsel Tyson Langhofer, who also serves as the director of the nonprofit legal organization's Academic Freedom Center, disagrees with FFRF's arguments. ADF has won several religious freedom cases before the U.S. Supreme Court. 
"Freedom From Religion Foundation's twisted interpretation of the First Amendment has the potential to crush both students' and their coaches' essential right to live out their faith," Langhofer said in a statement shared with Fox News. "Public universities are supposed to be the marketplace of ideas and have an obligation to protect and promote free speech and free exercise of religion." 
"As the Supreme Court recently reaffirmed in the Coach Kennedy case, religious coaches and students have the right to engage in religious activities on campus in their private capacity. FFRF's desire to silence religious students sends a clear message: 'You are not welcome here,'" he continued. Langhofer described FFRF's demands as "unconstitutional." 
According to The Auburn Plainsman, Unite Auburn is an organization that seeks to embolden college students uniting to lift up the name of Jesus. Tonya Prewett, the wife of assistant basketball coach Chad Prewett, spearheaded the event. 
Pastor and author Jonathan Pokluda, lead pastor of Harris Creek Baptist Church in Waco, Texas, was among the speakers. 
"Using public university coaching positions to inject religion into its sports programs amounts to religious coercion," Line argued in his letter. "Auburn University should not lend its power and prestige to religion excluding its non-Christian students, including those students who are a part of the 49 percent of Generation Z who are religiously unaffiliated. The repeated constitutional violations occurring at the University alienate and exclude a significant portion of your students."
Annie Laurie Gaylor, co-president of FFRF, suggested that the coaches' participation in "Unite Auburn" amounted to an "abuse of power." 
This is not the first time Freeze, the former head coach of Liberty University's football team, has drawn the ire of the FFRF. 
In 2017, FFRF tried to pressure the University of Mississippi to ban Freeze, who at the time served as its head football coach, from using his official Twitter account to write about his Christian faith and God.  
The letter submitted to Auburn by Line indicates that FFRF has repeatedly sought to draw attention to the school's "coaches using their public positions to impose their personal religious beliefs on their players and to generally promote their personal religious beliefs to students."
Line recalled Auburn's presence in its "2015 Pray to Play" report, which details how universities like Auburn have allowed their football coaches to "impose their personal religious beliefs on players by hiring Christian chaplains."
Gaylor urged the coaches mentioned in the letter to fire the team chaplains, opining that their "very presence signals that Auburn University has an inappropriate relationship with Christian evangelists."