Atheist Sues Kentucky for Not Allowing 'IM GOD' License Plate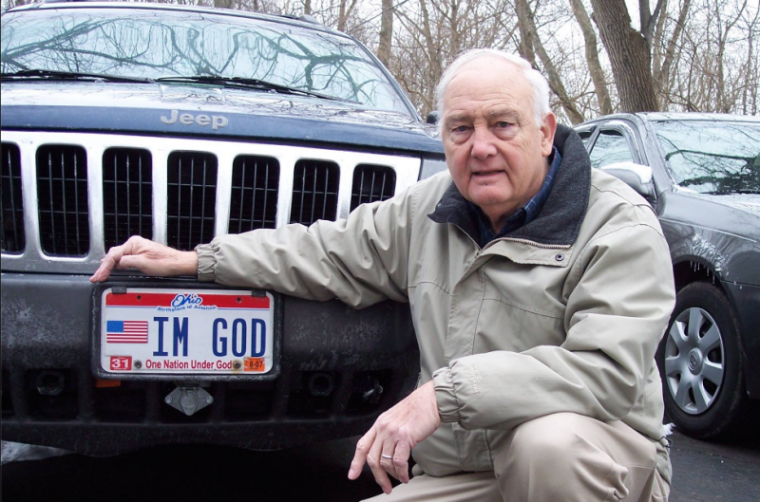 An atheist in Kentucky is suing the secretary of the state's Transportation Cabinet over being denied a vanity license plate that reads: "IM GOD."
Filed last week in district court by the Kentucky chapter of the American Civil Liberties Union and the Freedom From Religion Foundation, the lawsuit alleges that Bennie Hart's request to have an "IM GOD" plate should be honored.
"The Defendant's acts, practices and policies constitute an impermissible infringement of Plaintiff's right to free speech, as-applied to Plaintiff's intended future speech in the form of a personalized license plate stating 'IM GOD'" read the lawsuit.
"[T]he threat of repeated enforcement by Defendant ... to deny Plaintiffs future application impermissibly discriminates against Plaintiffs speech on the basis of content and/or viewpoint, and has chilled and continues to chill Plaintiff's protected speech, thereby depriving him of rights secured by the First and Fourteenth Amendments to the United States Constitution."
ACLU-KY Legal Director William Sharp said in a statement that Kentucky's DMV should respect Hart's freedom of expression.
"Under the First Amendment, government officials do not have the authority to censor messages simply because they dislike them," said Sharp.
"And in this instance, personalized license plates are a form of individual speech equally deserving of First Amendment protection."
A resident of Kenton County, before moving to Kentucky Hart lived in Ohio, where for 12 years he had the "IM GOD" personalized license plate.
In February, Hart moved to Kentucky and in March, he received a letter from Kentucky's Division of Motor Vehicle Licensing rejected his application for the "IM GOD" plate.
According to the letter, the "IM GOD" plate was considered in violation of laws against "vulgar or obscene" license plate messages.
According to the lawsuit, in April Senior Counsel J. Todd Ship of the Kentucky's Office of Legal Services said in a letter that "the use of 'IM GOD' is not in good taste and would create the potential of distraction to other drivers and possibly confrontations."
In a statement reported by local media outlet WAVE 3 News, Hart said, "I simply want the same opportunity to select a personal message for my license plate just as any other driver."
"There is nothing 'obscene or vulgar' about my view that religious beliefs are subject to individual interpretation," said Hart.