Audio Adrenaline Frontman Adam Agee Talks Why Band Won't Change Name, Stellar Kart's New Music, God Calling Him to Audio A (Interview)
Audio Adrenaline Frontman Adam Agee Talks Why Band Won't Change Name, Stellar Kart's New Music, God Calling Him to Audio A (Interview)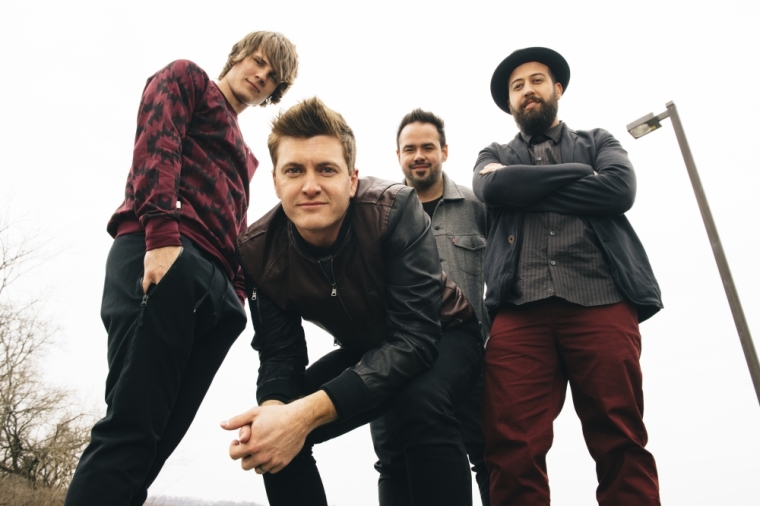 There were 3,000 people gathered to hear what the third lead singer to join the Christian Rock Band band Audio Adrenaline in three years sounded like, but technical difficulties made the situation a scary one for the group's latest frontman Adam Agee in Fayetteville, North Carolina, last February. Months after this tumultuous first tour stop with the group, Agee is confident that God brought him to Audio Adrenaline for a reason.
Agee, the former frontman of the pop punk band Stellar Kart, which has gone on an indefinite hiatus, is now the lead singer of Audio Adrenaline following some major shakeups in the band. After lead singer Mark Stuart was diagnosed with a voice condition, the band took a six-year break in 2006.
Audio Adrenaline, known as Audio A to fans, came back together in 2012 with Kevin Max from DC Talk as the lead vocalist. However, Max left the group in 2014 and was replaced by Josh Engler from the band Abandon, before Agee took his place last February.
Stellar Kart had the same management company as Audio Adrenaline, but the former was not moving forward with new music. When Agee was asked to join Audio A, which consisted of three other new members, he believed it was something God intended to happen.
"I felt it was what God wanted me to do and I felt God wanted me to be in music, but I didn't know what that would look like," Agee told The Christian Post. "Then this opportunity came up and it seemed too good to be true because I have been a huge fan of Audio Adrenaline for a long time."
Still, the transition did not come without its challenges, like the fateful first day Agee sang with Audio A in Fayetteville, North Carolina, on tour last February, when he was not able to do a soundcheck. He shared about the pressure to maintain the standard of excellence set by the group for close to three decades that he felt.
"I think I definitely felt a little pressure coming in because I didn't want to screw it up. I definitely wanted to do it justice. I grew up listening to Audio Adrenaline, they were a huge reason that I got into music and more specifically Christian music," Agee told CP. "It was tough, our first show on the tour was rough. That first show was a little scary and I was more nervous than I had been in probably 10 years playing shows."
These days, Agee has adjusted to the band who released their album "Sound of Saints" on May 4 when it debuted at number one on Billboard's Top Christian Albums chart. Despite the early success the singer is receiving with his new band, Agee has not forgotten about his Stellar Kart fans.
"When I first made the announcement, a lot of people were like 'what?!' But it was overwhelming support from the Stellar Kart fans saying 'we'll miss the Stellar Kart thing but we're excited about this,'" the singer told CP. "I'm so blessed for that, so thankful for that. Then out on the road it's been fun meeting fans and we sign and take pictures after each show."
Although Stellar Kart is currently on a hiatus, Agee said fans have not heard the last of them.
"I think there are plans to release some songs, maybe even an EP digitally now that we've gotten the Audio Adrenaline (album) out. When we finish this tour, we can move into festival season and I've got a bunch of songs that are definitely more Stellar Kart than Audio Adrenaline songs," he revealed. "That's always going to be a part of who I am and the way I write. So I think the fans can definitely expect to hear some Stellar Kart music in the near future."
While he still has plans to work with Stellar Kart, Agee believes he has a lot to add to the Audio Adrenaline band.
"I hope to not only add writing in my point of view, my perspective, my journey into the lyrics of these songs, but I hope to recapture that energy that Audio Adrenaline was known for when they came on the scene and before Mark lost his voice and everything," Agee told CP. "I want to get Audio Adrenaline back to when they were the energetic kind of crazy, fun, really strong rock band. I feel that is definitely the skillset God has blessed me with, to go rock out."
Yet, Agee joined Audio A to do more than just rock out, but to help people. In 2004, Audio Adrenaline created a non-profit organization called Hands and Feet project dedicated to providing family-style, residential care for children in crisis.
"I love what they're all about with their ministry ties to the Hands and Feet project and that there's more to it than just music rock and roll," he said. "Championing that was a big factor in me choosing to jumping on board and I'm glad I did."
Some may question why Audio Adrenaline chooses not to change the band's name since there are now new members with a new eclectic sound that fuses pop, rock and worship. However, Agee believes their brand and ministry work with Hands and Feet have a lot to do with who Audio Adrenaline is.
"I totally understand when people think we should change the name, but it's about the music and the ministry. When you talk about Audio Adrenaline, it brings up great memories not only of the guys in the band, but a lot of things that they've done and continue to do with the Hands and Feet project," he said. "I think it's important to keep that name not only to keep the ministry alive and on the forefront of everybody's mind but it's something for the fans who have been fans for the last 20 years to still have. They don't have to give it up, they can think about all of the memories of the past and hopefully make new memories now with this band."
For more information about Audio Adrenaline and their current tour with Newsboys, please visit http://audioa.com/.