Author Who Once Embraced Homosexuality Explains Why He No Longer Calls Himself 'Gay' (Interview)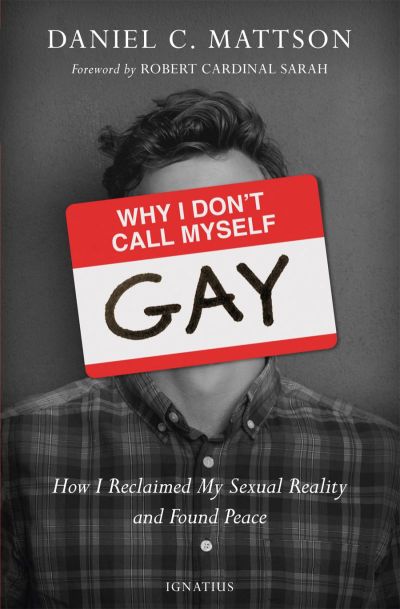 Mattson had a "very big wake-up moment" of his own with some of those dangers, an experience which ultimately made him realize he couldn't continue living as a homosexual.
One night when he was with a sexual partner "we were having 'safer' sex," he recalled.
But when they completed the act there was blood from his partner's body on the condom.
"That was a wake-up call to say, 'I am not [loving him], we are not loving each other, if this is potentially what happens,'" he said. He believed that wake-up call was, in fact, from God.
The human body is just not designed for it, he stressed.
Lest anyone think Mattson is some far-right, fear-mongering fundamentalist, the author points out that today even secular publications that lean left politically are highlighting some of these concerns. In March, The Huffington Post published a lengthy article titled "The Epidemic of Gay Loneliness," describing the relational dysfunction, the physical and psychological dangers of risky sex many homosexual men engage in, and the high rates of depression, mental illness, and drug use among them.
In part four of Why I Don't Call Myself Gay, Mattson includes a chapter titled "Jesus Is Our Holiness."
Christ is our model for everything and that includes how to have healthy friendships with men, Mattson explained, noting how the Gospels record that John the beloved disciple laid his head on Jesus' chest.
"That right there tells us that this is something beautiful that God has ordained for same-sex friendships — that there is this intimate bond that should exist and at times can and should be expressed by a physical closeness," he said.
Everything Satan tries to do is to take away and distort what the Son of God gave us, he continued, yet the problem with men having close friendships today is that now even brotherly relationships are perceived as gay.
"So when you have young teenagers who might naturally want to be buddy-buddy and chummy-chummy, having their arm hanging over their buddy," he said, ''they might have been totally free to do so in the 19th century, that longing for physical affection, but everything in our world today has been sexualized."
And when a boy feels like he cannot show physical love in a pure manner it "robs that child of the affection he needs to give. And in some cases, I think that longing for men can become eroticized for some people," he said.
Mattson expressed that more than anything else he hopes readers finish his book and come away with "the strong conviction that they were thought into existence by God because He loves us and He delights in us and He likes us."
"Not just tolerates through love because He has to, but that He really, really, really likes us," Mattson emphasized.
"And He wants us to be happy in this life and the next, and part of that happiness involves His plan for human sexuality. He has only said 'No' to certain things precisely because He loves us and He is a loving Father."
"The reason I can be honest and vulnerable is because with Christ, there is no more shame," Mattson added, noting that he feels "gratitude to God for allowing me to go through the junk in my life that I went through, and all the pain so I could help some other people."
Today, he continues to find refuge and minister with the Courage apostolate, a ministry of the Catholic Church for men with same-sex attraction, and he is writing a second book with the working title Why I Don't Call Myself A Gay Christian: One Man's Journey to Freedom.
Mattson explained that his same-sex attraction comes and goes, and the suffering he experiences is very real. But he writes amid charges he is a self-loathing man that he has learned to see the moments of "bone-crushing loneliness" in his life as a gift from God, because those times amount to invitations for him to go deeper into the heart of the Father.
"It's the paradox of the Cross: 'If any man would come after me, let him deny himself and take up his cross daily and follow me. For whoever would save his life will lose it; and whoever loses his life for my sake, he will save it," he writes, citing the words of Jesus in Luke 9: 23–24.
"This is the only answer that has ever made any sense to me," he added. "Once loneliness is accepted — and unconsciously chosen as a vehicle of Christ's love for others — well, then it's no real loneliness at all."
"Instead, it's love."