Ayesha Defends Warriors Fan Roni Rose Amid Claims She's Seducing Husband Steph Curry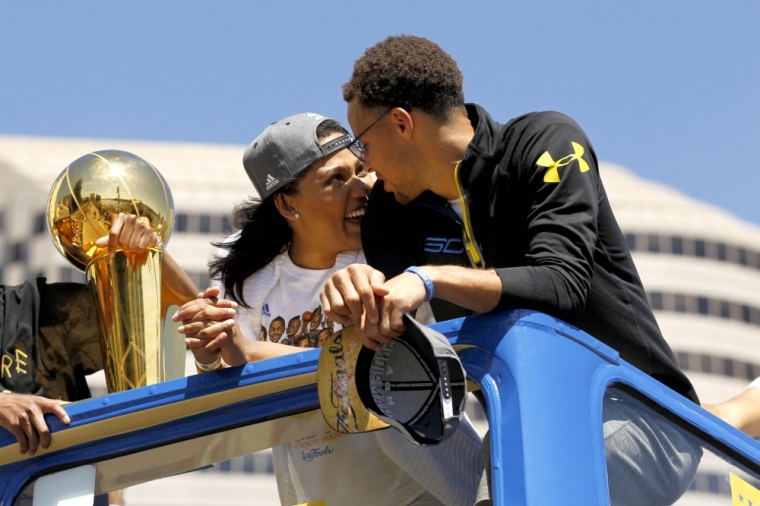 Ayesha Curry says she's ignoring social media speculation about a Golden State Warriors fan who many are accusing of trying to seduce her husband, Steph Curry, from the stands.
Instead, the wife and mother said she is showing love toward the woman who many have accused of trying to put a wedge in her marriage.
During Game 4 of the NBA Finals, a scantily clad stripper/model named Roni Rose was pictured seemingly giving Golden State Warriors point guard Steph an intense look from her courtside seats. Social media websites like Twitter screenshot the image they witnessed on television screens, making "Ayesha" a trending topic, warning the 27-year-old wife and mother to be cautious of the fan.
When gossip website Bossip questioned if Ayesha would confront Rose, she decided to confront the website instead.
"What I think is you need to leave her alone," she tweeted in response. "They've been supporting the dubs for a long time. Stop judging. It's irrelevant."
Rose seemed grateful that Ayesha defended her and took to Twitter to let that be known.
"Soooo @ayeshacurry just made my day!!! Thanks for setting it straight," Rose wrote. "Now let's get this win!!!! Go warriors."
Ayesha is no stranger to standing up for herself amid social media taunts. The budding chef who is gearing up for a Food Network show, a new cookbook and is lending her talents to a pop up restaurant with chef Michael Mina, told ESPNW during an interview that she has defended herself against those who believe all of her accomplishments are due solely to her her husband's success.
"It's weird because I feel like I'm still spending time fighting off the naysayers who think I only have these opportunities because of Stephen," Ayesha said. "While I'm clearly aware that he has helped me get through the door, I have to walk through that door and I feel like I have the talent to be here. So it has been fun to prove people wrong."
One example of that came last month when a critic on social media questioned her lifestyle that showcases her recipes and parenting.
"Inspiring women to be the best wives/cooks they can be eh? Or make a profit of their 'husband's' success," a commenter questioned Ayesha on Instagram after she announced the opening of her pop up restaurant. "Is this the most that you can achieve with your fame? Women around the world should strive to be more than just 'great' mothers/cooks..tailor your marketing and partnerships to inspire the next generation of doctors, lawyers, professors, public leaders, etc.."
Ayesha responded to the post earlier this month, saying: "My passion is cooking and food, I make people feel happy and comforted through creating delicious and exciting meals. Not sure why you're so bitter but I am an entrepreneur in every sense of the word," she responded. "You can continue to make assumptions while I continue working in silence and let the work speak for itself."