Babylon Bee tackles 'destructive' gender ideology in guidebook, anticipates backlash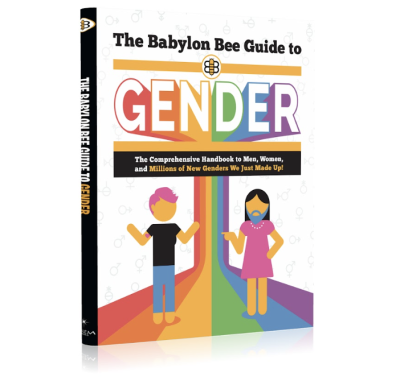 The Babylon Bee's Kyle Mann and Joel Berry want to make one thing clear: When satirizing hot-button issues, from LGBT ideology to celebrity pastors, their goal isn't to demean individuals — it's to mock harmful ideas they see as pushing society away from biblical truth. 
"We love people," Joel Berry, managing editor of the conservative parody website, told The Christian Post.
"We're all made in God's image. Our intention is to mock ideas because we see image-bearers of God being destroyed by these bad ideas. We always want to emphasize that, when we're being especially savage or mocking in our tone, we're trying to tear down an idea, not a person, and with the hope that the ultimate result is the elevation of that person to find their true meaning and purpose in Christ."
And gender, particularly the confusion surrounding the topic and the chaotic aftermath that happens when individuals try to take control of definitions, is the latest controversial issue to get the Babylon Bee treatment. 
The Babylon Bee Guide to Gender: The Comprehensive Handbook to Men, Women, and Millions of New Genders We Just Made Up!(Salem Books, Sept. 19), penned by Berry and Babylon Bee editor-in-chief Kyle Mann, explores the "colorful rainbow of genders and shares everything you need to know about gender identity, transgenderism and biological sex."
The third installment in the duo's guidebook series, the illustrated book gives gender and the ideology surrounding it the "full Babylon Bee treatment it deserves," Berry told CP.
"This is something that we've been writing about and joking about for a few years now," he said. "It's almost become our bread and butter. If you look at us like reporters from clown world, gender ideology is kind of our beat; it's the main lie that's being propagated in our culture today. Writing this book felt like a natural extension of what we were already doing with the site."
In the guidebook, Berry and Mann dive deep into the satirical exploration of gender ideology. They begin with tackling "traditional" male and female roles before citing "all 437 genders" and offering a "genderator" to help readers pick out some "new pronouns" like an "Elvish bi-annual oracle" or "Hylian hyper-dental hedgehog."
"We tried to make them as insane as possible and I'm sure some of them are actually real," Mann said. 
There's also a "reflect and apply" section where readers are prompted to, for example, "draw how you feel about your gender at this moment" or, for men, "list how you plan to become less toxic in the coming year."
"We got to be really, really just disgustingly sexist in a good-natured way," Mann said. "I think some of those male and female jokes are some of the joys of life. As married people who experience those differences, it's fun to kind of joke about those. It anchors the book because you start with men and women, and then you get into gender ideology, where all of that is completely upturned, and it just becomes crazier and crazier."
The duo's approach to controversial topics hasn't come without backlash. Last year, the Babylon Bee was suspended from Twitter after it awarded Rachel Levine, a trans-identified Biden official, the "Man of the Year" title.
They're anticipating similar pushback once their latest book is released.
"Twitter decided that was criminal misgendering and suspended us, and that was where it all came to a head," Berry said. "But the opposition had been going long before that in the form of fact checks and things like that, trying to de-platform us or suppress us in social media algorithms."
"With this publication, it remains to be seen," he continued. "We'll see what happens when it releases. We're almost hoping to get de-platformed from Amazon with this book because it will be great publicity for us."
"I'm sure it'll cause some problems," Mann added.
Addressing the anticipated backlash from critics who believe their work makes light of genuine gender identity struggles, Berry and Mann stressed that satire's purpose is to confront and challenge, potentially making readers uncomfortable.
"If your gender identity issues are so integral to your identity and who you are and what your life purpose is, you're going to get offended by this book," Mann said. "I think that's the role and purpose and satire. It should make us a little bit uncomfortable. If you read this book, it's clearly an exaggeration of the extremes and the fringe and not the kid who's actually struggling with some questions."
And while traditional discussions on gender can often fade into background noise, satire can be more potent, Mann added. Humor, he said, makes people pause, think and reconsider their preconceived notions.
"If somebody that I disagree with politically posts something, I'm probably just going to disregard it and be like, 'They're a flaming lib, I'm not going to listen to them," he said.
"But if they post something in a funny way, you can kind of laugh and then think about it and go, 'Maybe they have a point, maybe there's an element of their perspective that I haven't considered.' Our humor narrative, all of those tools, have a way of punching through all our defenses that we've built up towards the topic."
Mann and Berry stressed that as Christians, they feel called to engage in the public sphere and combat detrimental ideas, no matter how unpopular.
"We've seen the pitfalls of Christians that remain apolitical over the past 10, 20, 30 years," Mann reflected. "The way I leaned five or 10 years ago was, 'Politics is politics, and we Christians kind of stay in our own [lane].' I'm reading Lord of the Rings right now, and one lesson is the hobbits in the Shire wanted to stay in the Shire. But, Gandalf tells Frodo, 'Soon you're not going to have a shire to come back to.' There's wisdom in that … Christians do need to pick up their swords and defend what we hold what we hold dear."
"A lot of our duty as Christians is to preserve the things that are true and good and beautiful," he added. "I do think we need to be engaged out there. The left is doing it; why are we at a point now where they're OK with transing kids and not alerting their parents when they're in public schools? Because Christians didn't stand up early enough."
Barry contended that the current political climate showcases issues, like proposals related to abortion and gender identity in Ohio, which seem likely to pass if Christians do not intervene. 
"If the Church in Ohio were to mobilize, [these bills] would get struck down by huge numbers," he said. "The problem is the Church is afraid to bring up these issues in the pulpit, whether they're afraid of losing their audience, or there's this long-held cultural bias that we, as Christians, shouldn't be in politics."
The duo emphasized that while they use humor and exaggeration in their book, the content isn't vastly different from current gender discussions. They expressed concern over gender ideology's core belief of self-centricity, arguing that teens already grapple with identity and belonging, and introducing a narrative that they were "made wrong" only complicates their self-identity. 
"It's such a destructive ideology because, at its core, gender ideology makes everything about you," Mann said. "I think that's the deadliest thing about it is that it's not conducive to you going out and finding a true meaning and a purpose for your life. It's this thing that just makes you death spiral around yourself. And that's why we're seeing so much depression, and suicide and all these other horrible things that are going on with teens these days."
The Babylon Bee Guide to Gender follows the success of best-selling The Babylon Bee Guide to Wokeness, which was released in 2021 and The Babylon Bee Guide to Democracy, which was released in 2022. 
Looking ahead, Mann and Berry said they plan to release "at least one more" guidebook.
Mann teased: "Talking about the news trends that we're going to be covering — where's our nation headed? Probably the end of the world. So that's maybe what we might be covering."
The Babylon Bee Guide to Gender releases Sept. 19.