Baghdad Church Vicar on ISIS Closing in on Capital: Being British, Pro-Israel Makes Me a Big Target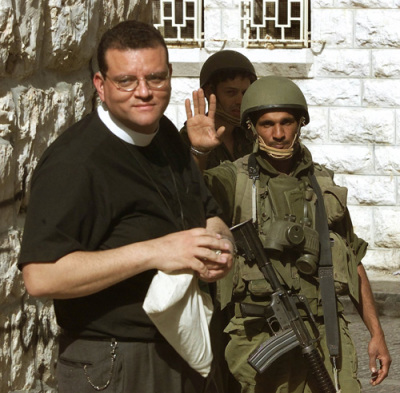 After attending an event that promoted peace in Jerusalem last weekend, the Rev. Canon Andrew White, the "Vicar of Baghdad", is delaying his return to Baghdad after he was told that his life is in danger as Islamic State forces close in on Iraq's capital city.
Canon White, the vicar of St. George's Church in Baghdad, the only Anglican church in the country, explains in a Facebook post on Sunday that he was instructed by the leader of the Anglican church that it is best for him to stay out of Baghdad as he would be a marked target should ISIS breach the city. White, who is also the president of the Foundation for Relief and Reconciliation in the Middle East, left Baghdad last weekend to attend the "Pray of the Peace of Jerusalem" event, a cross-religion event attended by Jews and Christians promoting peace in the region.
"Sadly things are not looking good for an immanent return to Baghdad. My dear friend the Archbishop of Canterbury has made clear that my profile is so high, I am British and very pro Israel which would place me at incredibly high risk should ISIL get near Baghdad," White wrote. "At the the moment they are not but who knows what could happen. This will mean that I will not be able to return to Baghdad yet."
Although White reported in a Facebook post on Sept. 30 that ISIS progress had been halted as close as five miles from Baghdad, McClatchy DC News reported last Friday that ISIS militants are moving freely in the town of Abu Ghraib, which sits over 24 miles west of Baghdad and is within striking distance of the city.
In an interview with The Telegraph last week, White was fearful that all Iraq's Christians, especially those in the Nineveh province, were fleeing the country because of the ISIS threat. He said "every single Christians wants to leave."
With ISIS closing in on Baghdad, White seemingly finds himself in those same shoes for the time being. Although It is uncertain when White plans to return to Baghdad, he wrote that in the meantime he plans to focus his efforts on providing help to Palestinian Christians.
"I am not going back to Baghdad now so I will concentrate more of my effort on Gaza and Palestine that is what I feel G-d wants me to do," White wrote. "I love the Palestinians just as much as I do the Israelis and they so need our help."
With a makeshift Iraqi army, many in the region fear that ISIS could take over Baghdad and the Anbar province just like they did the majority of the Ninevah province in the northern region of the country. White said in his Sept. 30 post that due to the ISIS threat, "the usual hectic and crazy streets [of Baghdad] were this morning almost empty."
White detailed the persecution of Christians in Nineveh province in an interview with The Telegraph where he said militants have captured church buildings and set up offices inside them. He also said that Christians in the province are unable to celebrate communion for the first time in two millenia.
"I used to say to my people: 'Don't you leave. I'm not going to leave you, don't leave me.' But now every one of them wants to leave and the ones who are left tend to be the poorer ones who couldn't get away earlier," he said.
White expressed concerns over the overall ability of the Iraqi army that will be challenged with the task of protecting Baghdad once the militants do gain headway into the city. In the Facebook post on Sept. 30, White detailed a discussion he had with an Iraqi soldier about his motives for defending Iraq and what the soldier would do once the ISIS threat presented itself.
"I asked [the soldier] what he would do if he saw ISIS coming. He told me he would take off his uniform and run," White wrote. "So I asked if he took seriously his role as a soldier to fight and protect his people he assured he did not. He told me he just did it because he needed the money."
White urged in his interview with The Telegraph that the only way to remove the Islamic State and prevent them from advancing is by deploying U.S.-led coalition ground forces.