Baltimore schools to allow transgender students to use preferred pronouns, locker rooms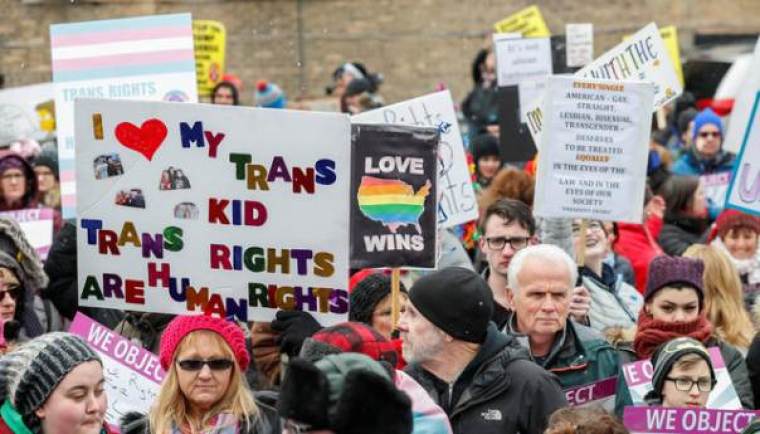 Baltimore City Public Schools' board of commissions approved a policy that goes above state requirements by allowing transgender students to use their preferred names and pronouns and access locker rooms and bathrooms of the opposite sex.
The board unanimously (8-0) passed the new policy, known as JBB, at its latest meeting on Tuesday to a chorus of cheers from LGBT advocates holding up signs that read "We are all human."
Under the new rules, students will have the ability to use the pronouns and names of their choosing without being required to have already changed their name legally. The transgender students may also use locker rooms and bathrooms that correspond with their gender identity. Also, schools can not force transgender students to use a private or gender-neutral bathroom.
The school district's new policy states that students who object to the policy will be provided with a "safe non-stigmatizing alternative."
"I applaud the School Board for unanimously passing policy JBB," Baltimore City Council Member Zeke Cohen wrote on Twitter. "In the next few weeks, The City Council will introduce legislation to protect and affirm our transgender siblings. To the LGBTQ youth and educators: You led, policy makers followed. Your voices mattered. You matter."
The pro-LGBT American Civil Liberties Union of Maryland also praised the policy.
As The Baltimore Sun notes, the policy is unclear about whether or not biologically male transgender students will be allowed to attend the district's only all-female school. But the policy does ban discrimination on the basis of sexual orientation, gender identity, gender expression, and gender nonconforming status.
The new policy comes as similar policies passed in other school districts around the United States have raised religious freedom and free speech concerns for faculty and students.
Last December, a French teacher was put on administrative leave for referring to the pronoun that corresponds with the student's biological sex.
Critics of such policies have also argued that allowing transgender students into the opposite-sex locker room violates the privacy rights of other students.
Last November, a group of Pennsylvania students appealed to the Supreme Court asking it to protect their "bodily privacy" and strike down their district's transgender-inclusive policy.
The nation's high court has not yet announced if it will consider the case.
In Maryland, Baltimore City School's new policy is similar to one passed in Frederick County in 2017 as a result of pressure from students. That year, a 15-year-old student and her mother filed a lawsuit against the Frederick County policy.
"Only in history do we see totalitarian regimes that arrogate to itself powers to force children and citizens to undress in front of members of the opposite sex," the lawsuit reads, according to WBALTV.
Last year, a federal court ruled against a school district located on Maryland's Eastern shore that required a transgender student to use a gender-neutral restroom to dress for gym class. The judge's reasoning was that by forcing the child to use a different restroom, it "harms his health and well-being."
During his last full year in office, the Barack Obama administration issued federal guidance to all school districts nationwide informing them that they should allow transgender students to access bathrooms and locker rooms according to their gender identity.
The administration argued that not allowing transgender students to use the preferred locker rooms is a violation of civil rights law. The administration interpreted civil rights discrimination protections on the basis of sex to also protect on the basis of gender identity. That interpretation was also used by courts and governments in the last few years to rule in favor or pass pro-transgender discrimination ordinances or rules even though gender identity protections are not explicitly written in federal law.
The Trump administration rescinded the 2016 Obama administration guidance, a move praised by Christian leaders and privacy rights advocates.
"How can we teach our daughters that their 'no' means 'no' if they're not even allowed to decide who sees them when they shower?" Kaeley Triller Haver, a privacy rights activist and a survivor of sexual trauma, told The Christian Post at the time.