Batman bin Suparman Arrested: 23-Year-Old With Superhero Name Imprisoned for Criminal Activities (PHOTO)
Batman bin Suparman has been jailed for three years for theft, drug use and trespassing. That's not a typo, and there were no super heroes involved. But a 23 year old unemployed man – with a superhero-like name – has been thrown in prison after being caught by CCTV in Singapore.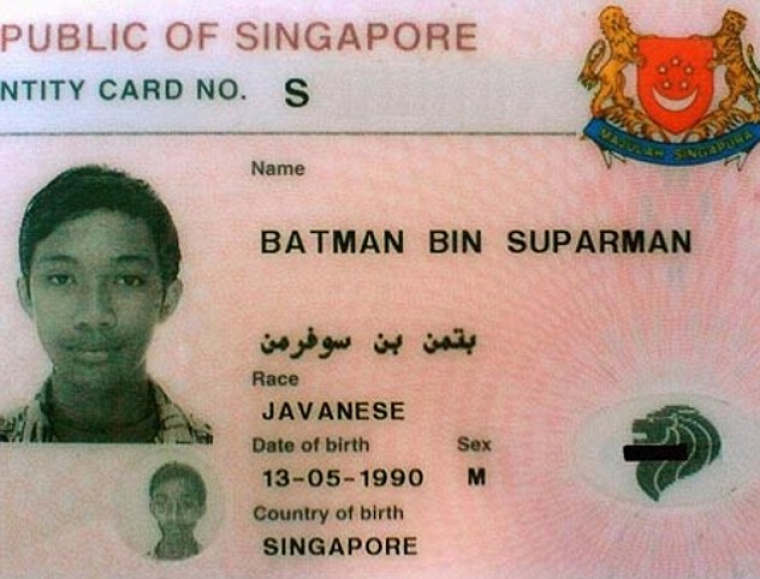 Mr Batman bin Suparman was caught on video breaking into a snooker hall at the Depot Heights Shopping Centre in Singapore on two separate occasions. In total, reports claim that he managed to steal an estimated $500 worth of equipment.
Suparman pleaded guilty to the charges, which included stealing his brother's bank card to withdraw $650 without permission to purchase heroin, according to The Daily Mail.
Batman will now spend the next 33 months in prison for his crimes, and has become a viral Internet sensation, after news of his arrest was reported around the world.
An image of his identity card has been posted on websites around the world, confirming that his first name is Batman, and surname is Suparman. His birthday is May 13, 1990, according to the ID.
The news has even sparked a fan page for the criminal to be created, called "Batman bin Suparman Fan Club." It has already gathered more than 11,000 Likes on the social media site.
Apparently the name "Suparman" is not an uncommon surname among the Javanese population, and is seen relatively commonly across various parts of Asia.
However, the man's first name, Batman, is much more uncommon.
Combined, his full name literally translates as "Batman, son of Suparman."
However, it seems Mr Suparman is going in the opposite direction as the much-loved superhero characters, and his recent criminal activities have seen him being charged with six counts of theft, two counts of trespassing, and one count of heroin consumption.