Bees Overpower Firefighters, Paramedics; Send Elderly Man to Hospital With Over 100 Stings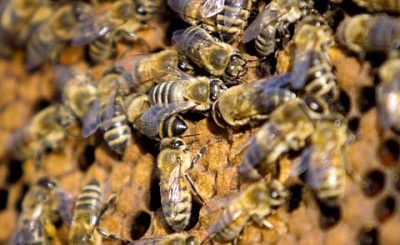 An angry swarm of bees living inside an abandoned house sent a group of firefighters and paramedics running for cover and stung a total of eight people including an elderly man who was hospitalized after being stung more than a hundred times.
"There was probably like 100s of bees. I have never seen that many bees, it was like the cartoons when you see a swarm of bees," Elizabeth Garcia one of the bee sting victims told CBS.
Richard Harrison, a Fort Worth Fire Department spokesman, told CBS that the attack occurred in the 3700 block of Galvez Avenue in a northeast Fort Worth, Texas, neighborhood.
Witnesses reported that the elderly man, believed to be in his 70s, was "completely covered in bees and was in and out of consciousness," according to the report. He was being treated at the John Peter Smith Hospital. One of two paramedics stung during the incident had to be hospitalized according to media reports.
Harrison told the Dallas News that a fire engine carrying four firefighters went out to the house, but as the truck approached, the bees attacked and all the firefighters were stung.
After the bees attacked, said Harrison, "everyone was sort of looking at each other and saying, 'what do we do now?'"
"They got in my hood and I didn't like that so I yanked it off," rookie firefighter Fernando Hernandez told CBS. "I bolted down the street. Luckily, some neighbor was watering his garden and he sprayed me down with water so they left me alone."
A pest control worker reportedly removed the hive from the house after the incident.
Bee removal specialist Christine Garcia told the Star-Telegram that the hive was a big one and about 120 pounds of honeycomb were removed from the home.
"It was pretty large," Garcia said. "When I worked on them, they didn't attack me at all. I don't know why the gentleman got stung so much. I feel really bad for him."