Sober Retiree Arrested for DUI Slaps Arizona City With 500K Lawsuit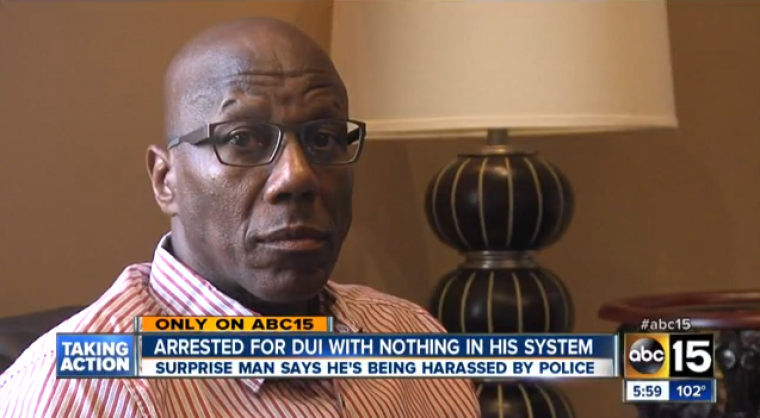 A 64-year-old retired firefighter charged with DUI by police officers in Surprise, Ariz., despite having a blood alcohol content of 0.000 has slapped the city with a $500,000 lawsuit for the bizarre incident which he claims was caused by DWB – driving while black.
According to an Associated Press report, the retired man, Jessie Thornton, received the DUI charge during a traffic stop on Dec. 7 last year, but the charge was dismissed two months later because a subsequent blood test revealed no mind-altering substance in his body.
Police charged that Thornton had bloodshot eyes, swayed and struggled to keep his balance during a sobriety test, had crossed a white roadway line and acknowledged taking prescription blood-pressure medication.
In an earlier ABC report, however, Thornton explains that he told police officers that his eyes were bloodshot because he was just returning from swimming at a gym where he was trying to loosen up his body for hip surgery slated for a few days later.
"I take my glasses off and he says, 'You've got bloodshot eyes.' I said, 'I've been swimming at LA Fitness,' and he says, 'I think you're DUI,'" Thornton told ABC. "He (the officer) goes, 'Well we're going to do a sobriety test.' I said, 'OK, but I got bad knees and a bad hip with surgery in two days.'"
Thornton was indeed scheduled for hip replacement surgery two days after the incident, according to medical documents and the police report notes the retired firefighter as having both a hip and knee problem.
"At one point, one of the officers shined the light in my eye and said, 'Oh, sorry,' and asked the other officer if he was doing it right,'" noted Thornton. The officers cuffed him and told him to sit on the curb but even doing that added insult to injury for the retiree.
"I couldn't even sit on the ground like that and they knew it and I was like laying on the ground, then they put me in the back of an SUV and when I asked the officer to move her seat up 'cause my hip hurt she told me to stop whining," explained Thornton.
Thornton was then taken to police headquarters in Surprise where he was administered a breathalyzer test which revealed a blood alcohol level of 0.000.
To verify that result, a "DRE" or drug recognition expert was called in to test Thornton and he concurred with what the retiree and Breathalyzer results had indicated.
"After he did all the tests, he says, 'I would never have arrested you, you show no signs of impairment,'" Thornton explained.
But Thornton's troubles never stopped there. His car got impounded and he faced a suspension of his driver's license.
Thornton, who lives in a retirement community with his wife, noted that he sleeps during the day and runs errands and works out at nights to facilitate his wife who is an ER nurse and works three 12-hour shifts.
Despite the embarrassment of the DUI, charge, however, Thornton said he believes the motivation behind the police officers' actions were driven by an even uglier crime.
"It was driving while black," said Thornton.
"This is a case of D-W-B, driving while black," charged Thornton's attorney, Marc Victor, whose office filed the $500,000 notice of claim against the City of Surprise.
"It's not totally about the money, although I'm already out more than $5,000, that's $5,000 that I don't have," Thornton noted.
"This is not the way American citizens ought to be treated by officers or treated by anybody for that matter," added Victor.