Ben Carson Sparks 'In God We Trust' Social Media Campaign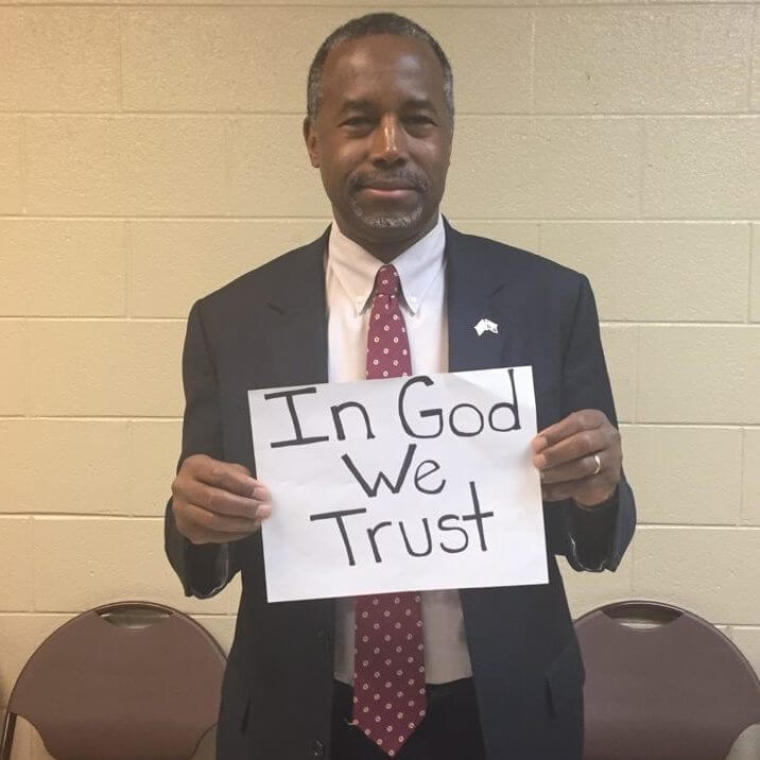 Republican Presidential candidate Ben Carson prompted a new social media campaign on Facebook, encouraging believers to post photos of themselves holding a sign that reads "In God We Trust."
"Change your profile picture to you holding a 'In God We Trust' sign if you believe God should remain a core principle of our nation," Carson wrote in a Facebook message on Tuesday.
The original photo of Carson holding such a sign has received close to 100,000 likes in less than 24 hours, and prompted a lot of discussion in the comments section.
The retired neurosurgeon, who has been outspoken about his Christian faith, has in the past talked about how it is that God gave him the motivation and inner peace to succeed.
Carson has previously said that America's relationship with faith is not unlike schizophrenia, noting that there are faith-positive messages printed on U.S. currency, and at the same time there is a seeming aversion to talk about religion.
"The pledge of allegiance to our flag says we are one nation under God. Many courtrooms in the land, on the wall it says 'In God We Trust.' Every coin in our pocket, every bill in our wallet says 'In God We Trust,'" Carson said at an October 2015 speech at the Free Chapel megachurch in Gainesville, Georgia.
"So if it's in our founding documents, it's in our pledges, in our courts and it's on our money, but we're not supposed to talk about it, what in the world is that? In medicine it's called schizophrenia. And I, for one, am simply not willing to kick God to the curb," Carson added.
The Republican candidate has started other faith-focused social media campaigns in the past as well, including one in October where he urged believers to post photos of themselves with the sign "I Am A Christian" as a sign of solidarity.
The message in particular was a reference to the shooting massacre at Umpqua Community College in Roseburg, Oregon, where nine people were killed. Reports at the time said that the gunman, Chris Harper-Mercer, was heard asking "Are You a Christian?" before shooting his victims.
Carson said that it is especially important for Christians in the country to stand together in tragedies like this.
"Today, many of your questions were in regards to the sorrowful event that took so many precious lives in Oregon yesterday. We don't have all the details yet, but as time passes more are coming out," Carson wrote at the time.
"Millions of people are posting pictures of themselves declaring they are Christians in support of the victims and their families. I did so on Facebook this afternoon. If you have a moment, please consider doing it as well," he added.