Ben Carson Predicts One Term Presidency If He Wins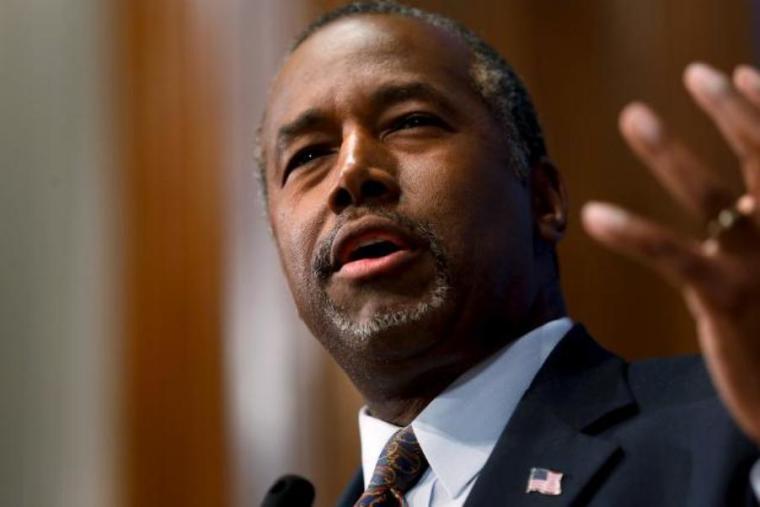 With his candidacy now appearing to be on life support as he struggles to get a grip on national security and terrorism, 2016 GOP presidential candidate and retired neurosurgeon Ben Carson believes if his fortunes change and he becomes president, he would probably last just one term.
"If I'm successful in this endeavor to become president of the United States, it's very likely I would be a one-term president," Carson said Wednesday in a short speech and Q&A delivered to a local party fundraiser at a Maggiano's in Las Vegas, according to a report in The Washington Post. "There are some tough things that need to be done."
The report noted that the comment was one of several ominous points noted during Carson's speech. The most ominous, the Post said, was Carson's reference to the seven-year-old revelation of a document some say is an example of Muslim Brotherhood infiltration in the United States. Carson had referenced the same document during the CNN debate on Tuesday night.
"You know, what the Muslim Brotherhood said in the explanatory memorandum that was discovered during the Holy Land Foundation Trial was that they will take advantage of our PC attitude to get us," Carson said during the debate. "We have to be better than this. We have to be smarter than they are."
The Holy Land Foundation was a Texas-based Islamic charity, which was designated a terrorist organization shortly after the Sept. 11, 2001, attacks. In subsequent trials, FBI investigators revealed documents and conversations among Islamist figures in which they allegedly discussed how efforts to funnel money to Hamas was furthered by creating peaceful-seeming Muslim organizations, the Post reported.
The memorandum referenced by Carson was found after the home of Ismail Elbarasse, an un-indicted co-conspirator, was raided. The document gained legendary status in some pockets of the right, says the Post, which noted that the link between "political correctness" and the enabling of jihad was not as explicit as Carson claimed.
"The Ikhwan must understand that their work in America is a kind of grand Jihad in eliminating and destroying the Western civilization from within and 'sabotaging' its miserable house by their hands and the hands of the believers so that it is eliminated and God's religion is made victorious over all other religions," Elbarasse wrote. "It is a Muslim's destiny to perform Jihad and work wherever he is and wherever he lands until the final hour comes."
Islamist radicals "talked in that memorandum about how it would be easy to manipulate the American populace, because they would be concerned about political correctness, and they would be so concerned about trying to protect our rights that we could come in and do what we need to do," Carson reportedly noted.
On Thursday, CNN reported that Carson canceled a planned trip to Israel and Africa due to "security concerns." He was expected to visit Nigeria, Kenya and Zambia at the end of the month while his Israel trip was expected before the first caucuses as well.
"There is significant security concerns," Carson told reporters at an event in Iowa. "It's classified information so I'm just going to say it's too dangerous."
Carson said his campaign made the final decision but called it "prudent judgment."
He dismissed speculation on whether canceling the trip would further weaken his credibility on foreign policy.
"I think it'll make me look smart to not go into some place where there's a lot of danger," he said.