Benham Brothers: America Is Witnessing Bible's Prophecy of Isaiah 59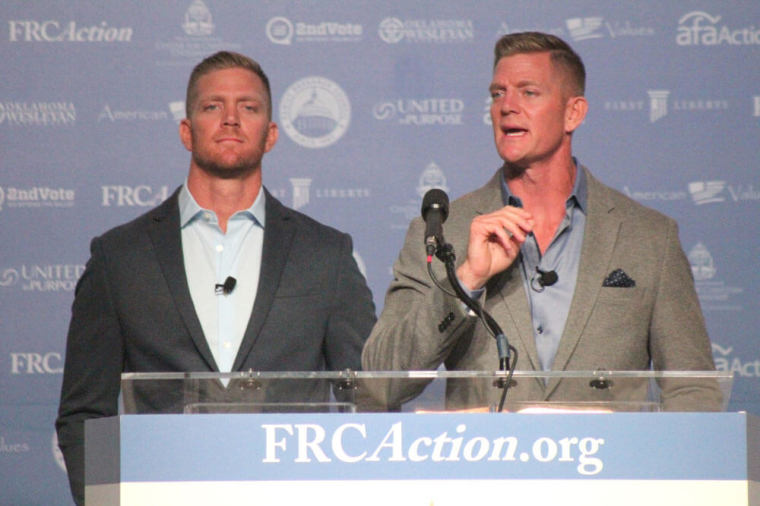 WASHINGTON — David and Jason Benham told hundreds of evangelical Christians Friday that the "prophetic implications" of Isaiah 59 are happening in America today, as those who publicly defend traditional Christian beliefs are being turned into "prey."
The Benham brothers, successful real estate entrepreneurs who gained notoriety among conservative Christians when their HGTV reality show was canceled because of liberal opposition to their beliefs on homosexuality, spoke for about 20 minutes at the Family Research Council's Values Voters Summit on Friday afternoon and warned that what people are calling the "sexual revolution" is actually more like the moral decay of society.
As Christians around the country — from wedding venders and pizza shop owners to government officials and MLB commentators — are facing social upheaval and massive consequences for voicing and acting on their Christian convictions and opinions, the Benhams suggested that there is a "radical revolution to overtake America."
"[I]t is more than just a sexual revolution, it is a moral revolution, it's a spiritual revolution that is taking place right now before our eyes and the ceiling has become the floor," David Benham said.
"In 2015, we see the Obergefell Supreme Court decision supposedly legalizing gay marriage — that was the ceiling, the height," he continued. "That is no longer the height, that has become the floor. Now we will absolutely force participation. So, it goes. In this moral revolution, it goes from acceptance to appreciation to celebration into forced participation."
David Benham said that the Left's crafted "narrative" that "religious freedom is a right to discriminate," is the most ridiculous thing that he has ever heard.
"But, until the pulpits of this country, once again begin to ablaze with righteousness, that will continue to spread like gangrene in this nation," he stressed. "Now is the time for us to stand up and wake up from our stupor."
Jason chimed in and said that there was a scripture that ties into what is going on in America today. Then, David joked about saving "Two Corinthians" for a speaker later on, making fun of Donald Trump's pronunciation of "Second Corinthians" during a speech at Liberty University earlier this year.
Instead, David Benham recited Isaiah 59:14-15. The verse states: "Justice is turned back, And righteousness stands far away; For truth has stumbled in the street, And uprightness cannot enter. Yes, truth is lacking; And he who turns aside from evil makes himself a prey."
"We are watching the prophetic implications of that verse. That was spoken to the nation of Israel," David contended. "They had turned their backs on God and we are watching the exact same spirit rise up in this country. He who turns himself from evil, makes himself a prey."
Jason Benham then stated that the church is not supposed to be the "master or the serpent of the state," but rather the "conscience of the state."
"Do you know what is happening right now? We have pastors in pulpits who refuse to touch the issues that need to be addressed from the pulpits today," Jason Benham asserted.
He said that pastors are too afraid to speak up because they will be "vilified." When the pastors aren't speaking up for biblical truths, "the conscience goes dark."
"The persecution in America today that is going to continue increasing is what God is using to wake us up," Jason contended. "May we all in this room stay awake and wake everyone we can. The problem is not the presence of darkness. The problem is absence of light."