Benham Bros. Wanted to Use HGTV Show to Make 'Disciples of the Nation'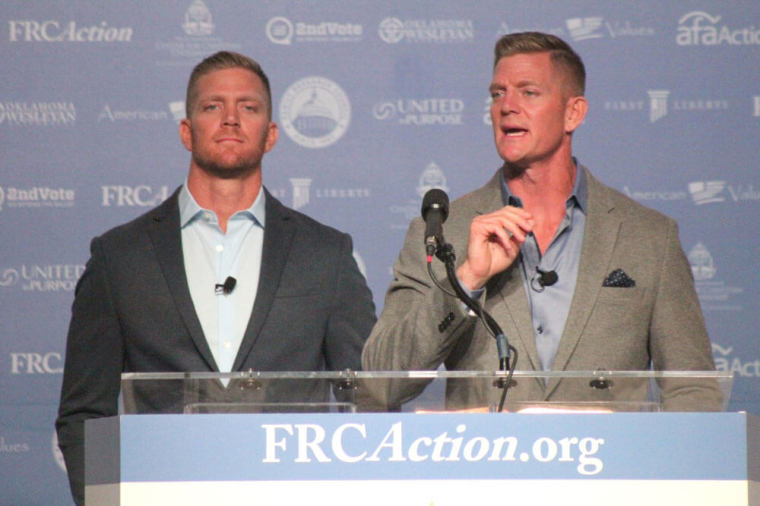 Popular conservative Christian real estate entrepreneurs the Benham Brothers recalled Saturday how they almost promised HGTV that they would keep quiet about their Christian beliefs on political issues in an attempt save their now-canceled reality television show, which they wanted to use to make "disciples of the nation."
David and Jason Benham, whose HGTV show "Flip it Forward" was supposed to air in the fall of 2014 but was canceled after LGBT activists pressured the network over their twins' beliefs on marriage and sexuality, spoke at the annual Family Leadership Summit on Saturday in Des Moines, Iowa, hosted by the Iowa-based social conservative organization The Family Leader and its president Bob Vander Plaats.
In their speech to the gathering of about 900 social conservatives, the Benhams urged the crowd to take a courageous stand for the Christian principles that are the "bedrock" of family and society even though they might face extreme opposition for it.
David Benham quoted late chaplain Elton Trueblood (1900-1994), who prophesied late in his life that in the year 2000, Christians will be "a conscious minority surrounded by an arrogant militant paganism." David Benham said that the former Harvard and Stanford University chaplain's prediction was "spot on."
The Benhams recalled their own experience in dealing with the backlash to their Christian beliefs.
In 2012, when the brothers' home state of North Carolina was considering an amendment to define marriage as being only a union between one man and one woman, David said that God put it on their hearts, as owners of a successful North Carolina-based real estate company, to speak up in favor of the amendment while many other businesses were speaking out against it.
The brothers even hosted a rally in Charlotte in favor of the amendment in which thousands of Christians attended the night before the 2012 Democratic National Convention.
"It was at that point Right Wing Watch discovered Jason and David Benham," David said of the far-left media outlet run by the liberal nonprofit group People for the American Way. It was a Right Wing Watch article that helped spread the word to the LGBT activist community about the brother's stance on marriage.
"When Right Wing Watch found out that we hosted a prayer event the night before the DNC, they wrote an article about the bigoted and intolerant Benham brothers," David Benham added.
Jason Benham recalled that the Right Wing Watch article came out about three months before HGTV made them an offer for a six-episode series. But during the background check on the Benham brothers, HGTV attorneys discovered the Right Wing Watch article.
"I remember getting a phone call from our production company at the time and the production assistant is on the other line and she said, 'Guys, listen. HG is really excited about having you guys. They think that the family friendly market is going to explode.' ... I remember she said that the attorney's have one question they want for the record. 'Are you guys anti-gay?'" Jason Benham recalled. "I experienced something when she asked that question to the level that I haven't experienced before. It was fear. I felt a man-pleasing spirit coming all over me. You know why? Because now, I had a promise of a platform that HG was saying 'We are going to put you in millions of homes."
"David and I were thinking that we were going to use this to make disciples of the nation," he continued. "We were going to use this to help bring revival to this nation because we need it. If God gets our name out there, that is what we are going to do and I didn't want to lose this platform."
Jason said that he felt a voice say, "You better be careful how you answer this. If you don't answer this the right way, you are going to lose this platform."
Jason told the production assistant that he and his brother are not "anti-anything" but "pro-Jesus, which means we are pro-Bible."
"Through the course of the conversation I got to share with her that God's blessings are within God's boundaries and if you remove his boundaries then blessings are replaced with burdens," he added.
Jason Benham explained that after the phone call, two weeks went by without any contact from HGTV, their agents or their production company.
"I honestly thought we were getting dumped," Jason Benham added, saying that they prayed about it and even drafted an email to HGTV to "try to save the show."
"[David] wrote the email and about 30 minutes later, he sent it to me. I read it and it was the best email I had ever read. It said essentially this: 'HGTV, these are our beliefs and we are never going to back off of them. ... but when we represent your network in public, we will be quiet about those beliefs,'" Jason Benham recalled. "We were both operating out of a man-pleasing spirit in that moment."
Jason Benham added that they were so focused on the platform God was providing for them that they became enslaved to that platform.
"We were now enslaved to the fact that we could have this platform and we were now blind and we doing it 'all for the Lord," he said.
Before sending that email to HGTV, Jason Benham said that they sent the email draft to a trusted spiritual mentor who scolded them for saying that they would be quiet about the beliefs.
"Within three minutes, he sends an email back that said, 'How dare you boys write an email like this. Have you forgotten who you are? Do you not know that God raised you both up for a time such as this to tear down the stronghold that is ransacking this nation,'" Jason Benham explained. "You know what we discovered from that? That boldness apart from brokenness makes a bully. God had to break us. We got down and repented of our man-pleasing spirit. God had to break us first. We had no idea that he was putting us in a position where we had to be bold for a watching world. ... What he had to do was break us and show us that the secret to courage is first recognizing your inner coward and then allowing the Holy Spirit to unleash your inner lion."
David Benham said that pastors and politicians today who are afraid to take a stance on hot-button political issues are forgetting the words of Matthew 5:11: "Blessed are you when people insult you, persecute you and falsely accuse you."
"Right now is the time for us to stand up and share these things and it is going to take boldness. But that is a difficult thing often times because we have discovered that courage is contagious. But you know what else is? Cowardice is contagious too," Jason Benham asserted. "So, when you got one pastor that won't speak on anything, you've got several others that might not and several others and then the congregation. All of sudden, we are not speaking out on these things."