Benny and Suzanne Hinn to Remarry in March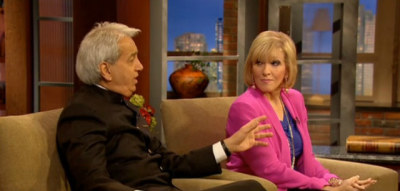 Charismatic pastor and evangelist Benny Hinn has announced that he and Suzanne Hinn, whom he divorced in 2010, will celebrate the restoration of their marriage in a ceremony on March 3 that will be conducted by Dr. Jack Hayford.
Describing how he and Ms. Hinn "are more in love with each other than ever before," Pastor Hinn shared in a newsletter with supporters:
"... On March 3, less than two weeks from now, Suzanne and I will stand before God and our family members as we celebrate the restoration of our marriage in a ceremony conducted by Dr. Jack Hayford, evangelist Reinhard Bonnke, and Suzanne's father, Dr. Roy Harthern!"
The announcement came on Monday, less than a year after the faith-healing Christian minister had revealed that he and his former wife had actually started taking steps toward reconciliation during a family gathering in Orlando, Fla., on Christmas in 2011.
Suzanne Hinn separated from her husband in January 2010 and filed a petition for divorce in a California court the following month, citing irreconcilable differences. Pastor Hinn claimed, however, that her addiction to prescription drugs is what led to the breakdown of their marriage. He also admitted that his frequent trips away from home also put stress on their relationship and could have led to her abuse of medication.
"The truth of the matter is that Suzanne filed for divorce because she was in a deep emotional and physical crisis that affected her in such a way that caused her to make a decision she now regrets. And although it was, without question, the most agonizing two and a half years of my life, the end of our marriage most certainly woke me up, and the Lord used it to show me – as a man of God and as a man – that I cannot function properly without my wife and family," Hinn previously shared.
When the original announcement of reconciliation came in May 2012, there was speculation that the Hinns would remarry that same year at Calvary Assembly in Orlando – the church that Suzanne Hinn's father, Dr. Roy Harthern, once served as lead pastor. However, the evangelist later clarified that he and his former wife would be taking their time to allow God to heal their lives and marriage, and would avoid setting any dates.
With the time now having arrived, Hinn has thanked supporters for their prayers and insisted that more information about the "celebration" would be revealed. No location has been given for the remarriage ceremony.
"Again, I want to thank you for praying and loving us as you have! Suzanne and I believe that the ministry God gave us will be greater than ever in the future. She will be by my side for the rest of my life," the 60-year-old evangelist shared in his Monday newsletter.
"I truly believe that we are entering an unprecedented season where we will see God's anointing in a way we've never experienced before! We believe, as we move forward, that God will not only save souls and heal bodies through our ministry, but will also heal families," Hinn added. "Praise God for what He has done, and thank you for rejoicing."
Dr. Jack Hayford, previously reported as the one who would oversee the ceremony, has been credited with helping the Hinns to revive their relationship. The Pentecostal minister is president of King's University (formerly The King's College and Seminary) in Los Angeles, which he founded in 1997. He is also the former president of the International Church of the Foursquare Gospel and founding pastor of The Church On The Way in Van Nuys, Calif., where he served for more than 30 years.
Reinhard Bonnke, noted in Hinn's remarriage announcement, is a German charismatic Christian evangelist known for his ministry outreach in Africa.
Benny and Suzanne Hinn, who had been married for about 30 years, have three daughters and a son. The son, Joshua Hinn, was recently questioned by law enforcement officials during one of his father's evangelistic meetings in Brazil for allegedly beating up a deaf and mute man. The 21-year-old, along with two bodyguards employed by Benny Hinn Ministries, was eventually allowed to return to the U.S. with no charges filed.
Hinn, known for his frequent miracle healing crusades held all over the world, claims to have an "anointing," or special power from God, that gives him the supernatural ability to heal people.
In addition to his faith-healing and prophecy claims being scrutinized, Hinn's ministry was included in a 2007 Senate investigation of the financial dealings of several high-profile prosperity preachers. He was commended for voluntarily sharing financial information regarding his ministry with the U.S. Senate Finance Committee.
Benny Hinn Ministries and Hinn's World Healing Center Church are located in Grapevine, Texas.
The Christian Post's repeated attempts to speak with representatives of Benny Hinn Ministries were unsuccessful.