Benny Hinn's Mother Dies Days Before Mother's Day; Televangelist Talks About Heaven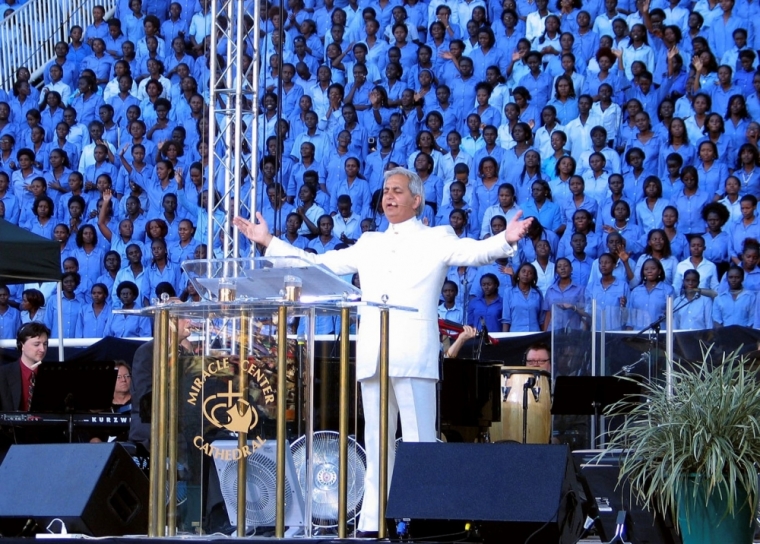 Controversial televangelist Benny Hinn has revealed that his mother, Clemence, died days before Mother's Day, and said her passing has inspired him to search the truth about Heaven in the Bible.
"By now, you have undoubtedly heard the news of my mom's home-going," Hinn wrote on his website last week.
"I can tell you, without a shadow of a doubt, mom's passing has only compelled me to be more consumed than ever with a passion to share what the Bible tells us about Heaven, and the need for salvation to one day receive all that He has prepared for us there," he added.
"While I join all our family and partners around the world in mourning the loss of this remarkable woman, I want you to know that we have been celebrating her reunion in Heaven with Constandi, my father, multitudes of loved ones, and especially the Lord Jesus whom she served so faithfully!"
In another Facebook post he noted that losing both parents is a "deep pain that you can't describe."
"And while we rejoice at their being home with our blessed Jesus, grief is a very difficult matter to deal with. Yet it is times like these that the Lord's grace means so much and our faith is all we have to lean on," Hinn wrote.
The televangelist is known for his "miracle healing crusades" that attract thousands of people worldwide. And also for being among the "Grassley 6" when in 2007 he was investigated by the Senate Committee on Finance, led by Sen. Chuck Grassley, over the tax-exempt status for his ministry. The Senate finance committee also investigated Paula White, Eddie L. Long, Joyce Meyer, Creflo Dollar, and Kenneth Copeland, most of who promote the prosperity gospel. Hinn responded to the inquiry and provided requested information to the Senate committee and after three years of investigation there was no penalties, although the investigation itself cast a negative light on all the ministries during the scrutiny.
In his Facebook post this past weekend, Hinn focused on Heaven, explaining that he truly believes it is a real place.
"It was fashioned by God Himself, and its mysteries have intrigued mankind for centuries," the evangelist wrote.
He used several verses in the Bible to offer clues of what it may look like.
"The Word of God tells us clearly that heaven is a spectacular place He has created for believers — a city, a country, a heavenly planet (Hebrews 11:8-16)," Hinn wrote.
"It is an actual planet, a real place. It isn't a cloud where people merely sit around playing harps. There is much given to us in the Bible that tells us about the heavenly home awaiting us," he added.
The preacher continued: "God's Word explains that Heaven in inhabited: 'I saw the Lord sitting on his throne, and all the host of heaven standing by him on his right hand and on his left," (1 Kings 22:19).
These inhabitants include seraphim, cherubim, living creatures, archangels, angels, and innumerable multitudes of saints, (Revelation 7:9-12)."
Hinn warned, however, that there are still billions of people who have not been given the "Good News of salvation" yet, and asked people to help his ministry in spreading the message around the world.