Benny Hinn Launching TV Channel Showcasing 'Miracles' From God in Preparation for 'Last Days'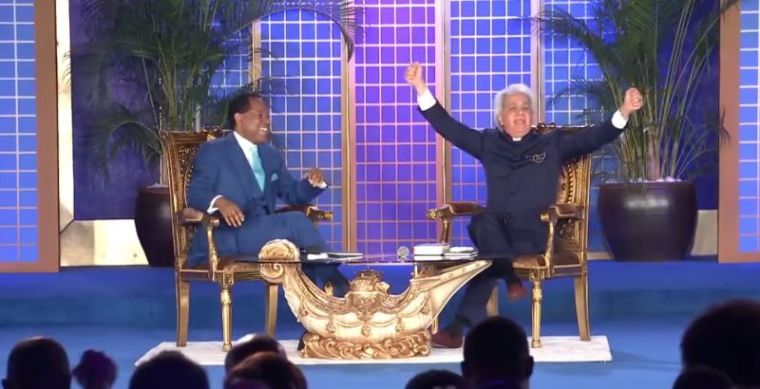 Controversial televangelist Benny Hinn of Benny Hinn Ministries, along with Nigerian Pastor Chris Oyakhilome, president of Believers' LoveWorld, have announced that they're launching a new TV channel to showcase the "miracles" and glory of God.
CBN News reported Friday that the channel, dubbed "LoveWorld USA," will be available on Spectrum cable in the United States.
Oyakhilome and Hinn made the initial announcement last week, where the Believers' LoveWorld leader said the world is living in the "last days," and the new channel will be an effort to showcase God's glory before the return of Jesus Christ.
Oyakhilome said in a Facebook video that the channel will specifically focus on "the power of the Holy Ghost."
Hinn, who leads so-called miracle crusades around the world, said, "we don't want just another boring network, we want signs and wonders, miracles" that attest to God's power.
Speaking about the new channel, Pastor Deola Phillips said it will include Hinn's flagship program "This Is Your Day," as well as Oyakhilome's program called "Atmosphere of Miracles."
Both Oyakhilome and Hinn have faced major controversies.
Hinn admitted in April that criminal investigators from the IRS and inspectors from the U.S. Postal Service executed a closely guarded raid on the offices of his ministry in Grapevine, Texas, and told supporters that they are looking into "certain operations of the church."
"The ministry has undergone intense scrutiny over the years, and we remain confident that there will again be a positive and speedy outcome in the days ahead," a statement from the ministry said back then.
Hinn was also one of six televangelists who were part of a 2007 Senate inquiry, though the three-year-long investigation did not find definitive wrongdoing.
Oyakhilome, on the other hand, was divorced from his wife, Anita Oyakhilome, who in 2014 accused him of "adultery" and "unreasonable behavior."
Oyakhilome denied his wife's allegations at the time, claiming that she was influenced by "bad friends" who wanted to break up their home.