Analysis: How Bernie Sanders Could Become Our Next President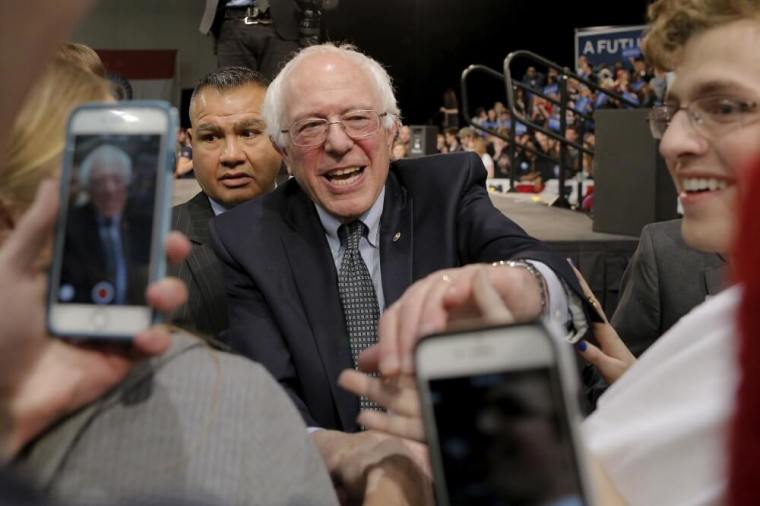 As crazy as this sounds, Americans could "feel the bern" and elect democratic socialist Bernie Sanders as our next president. Here's how.
1. Beat Hillary
Step one is beating Hillary Clinton for the Democratic nomination. This will not be easy.
While the current RCP average of recent national polls shows Sanders only five points behind Clinton (47-42), the race is won in state level contests. Pollster Nate Silver wrote Thursday that Clinton appears poised to rack up enough delegates to win the nomination, yet Sanders has a shade of hope in that his campaign has been outperforming polls, which suggests he has momentum.
Clinton's strengths are due to her perceived inevitability and electability. If those diminish, more voters will likely take a second look at Sanders.
A recent Fox News poll showed Sanders doing better against the Republican presidential frontrunner, Donald Trump, than Clinton. Clinton beat Trump by only five points, but Sanders beat Trump by a whopping 15 points. The current RCP average shows Clinton winning by three points and Sanders winning by six points.
These polls could be due to ongoing federal investigations into the Clinton email scandal and the perception of voters that she is dishonest.
If Democratic primary voters begin to see Sanders, not Clinton, as the most electable candidate in the general election, it would undermine her primary pitch to voters.
2(a). Beat Trump.
If Sanders win the Democratic nomination, and Trump wins the Republican nomination, the next step would be the easiest part.
Trump is unelectable in a general election and running against a socialist is unlikely to change that. As mentioned above, current polls already show Sanders beating him. Plus, some conservatives are now saying they couldn't vote for Trump in a general election (see, for instance, here and here).
Trump has argued he can win the general election because he would win New York. This is absurd. New York is a strongly Democrat state. A poll of New York state residents showed Sanders beating Trump by 33 points, 66 to 30.
Trump's unfavorable ratings also indicate that he cannot win a general election. Gallup found that 60 percent of Americans have an unfavorable view of Trump, which is higher than any presidential candidate of any party in the history of Gallup asking that question (since 1992). Given that most people know Trump already, these numbers are unlikely to change much.
2(b). Beat Cruz or Rubio.
But what if Trump is not the nominee? That means Republicans have nominated either Ted Cruz or Marco Rubio. (Ben Carson and John Kasich are technically still in the race but are not viable candidates.)
Here is where the math gets interesting.
Between the two of them, Sanders would have an easier time beating Cruz. Of the three polls that have asked the question, all three show Sanders beating Cruz, one by 10 points and the other by two points. Two of the three show Rubio beating Sanders by two and four points and one shows Sanders beating Rubio by six points.
To win the presidency, however, one must win in the Electoral College, not a popular vote (as Al Gore can tell you).
According to University of Virginia political scientist Larry Sabato, Democrats have 217 Electoral College votes in the "safe" or "likely" category. Two states, Wisconsin and Pennsylvania, "lean" Democrat, for an additional 30 EC votes. So, those states would put Sanders at 247 votes, 23 votes shy of the 270 he needs to win the election.
Where would those additional 23 come from?
Given that Sanders is a far left, avowed "Democratic Socialist," it's difficult to see where he could win those votes.
There are seven swing states: Colorado, Florida, Iowa, Nevada, New Hampshire, Ohio and Virginia. And one "lean" Republican state: North Carolina.
But there is a strategy that might actually work: go after Trump supporters.
Trump and Sanders already share many similarities. They're both running populist, anti-"establishment" campaigns. They both oppose free trade. They both support withdrawing troops from Middle East conflicts (though Trump is inconsistent, saying weird things like, "we'll bomb the oil"). And they both appeal to voters who feel the political system ignores them.
So what if Sanders were to make an appeal to Trump supporters in a general election?
According to an analysis of Trump supporters conducted by Civis Analytics, his strongest support comes from working class whites residing from Louisiana up to New York along the Appalachian mountains.
This means, as long as Sanders secures the "lean Democrat" states of Wisconsin and Pennsylvania, if he rallied Trump supporters in the western parts of North Carolina and Virginia, and won those 28 EC votes, he would have 275 EC votes, five more than needed to win the presidency.
Given the proximity of those states, Sanders could run an inexpensive campaign driving back and forth along I-81.
If Sanders loses Wisconsin, another potentional path would be to win Nevada, which has many Trump supporters in the northern part of the state, and New Hampshire, which he and Trump both won decisively in their own nomination contests. Those two states have a combined 10 EC votes, the same as Wisconsin.
Note that this analysis assumes no viable third party or independent candidates, which would disrupt the race. New York Mayor Michael Bloomberg could enter the race, for instance. Or if Trump is the Republican nominee, a conservative could challenge him.
Sanders is still a long shot to become our next president. But, what once seemed impossible appears to be at least a possibility.