Beth and Alex Malarkey of the 'Boy Who Came Back From Heaven' book evicted from their home by ex-husband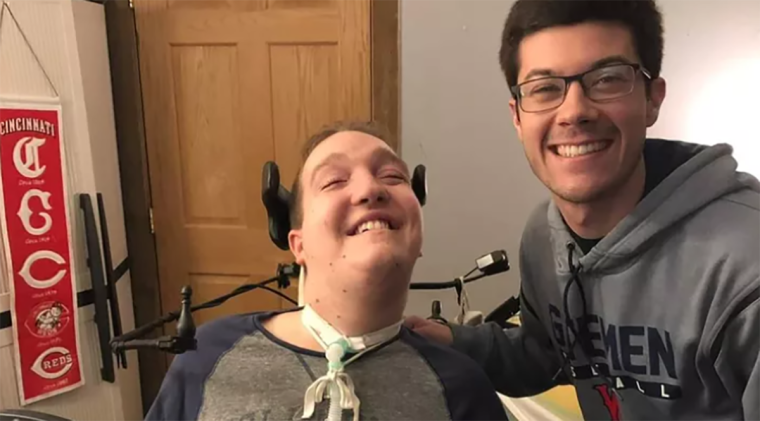 An Ohio mother is asking the public to pray for her family after she and her quadriplegic son — who's best known for fabricating a story about going to Heaven — were evicted from their home by her ex-husband.
Beth Malarkey and her 24-year-old son, Alex, were ordered to leave their home in Huntsville, Ohio, located roughly 40 miles northwest of Columbus, following a hearing on Oct. 1.
Alex was left a quadriplegic following a 2004 car accident, which was made famous in the 2010 bestseller The Boy Who Came Back From Heaven.
In 2015, Malarkey admitted the tale was a total fabrication made up by his father, Kevin Malarkey, who has since divorced Beth and continues to receive 100% of the royalties from the book. He also maintains that Alex's story was true.
Following the scandal, Alex sent a letter to LifeWay Christian Stores and other faith-based booksellers, explaining why he initially went along with his father's fabrications.
"I said I went to Heaven because I thought it would get me attention," Malarkey wrote. "When I made the claims that I did, I had never read the Bible. People have profited from lies, and continue to. They should read the Bible, which is enough. The Bible is the only source of truth. Anything written by man cannot be infallible."
Now, after Kevin Malarkey filed an eviction notice against his ex-wife and son, Beth and Alex have moved into a home in nearby Bellefontaine with some help from the Logan County Board of Developmental Disabilities.
A GoFundMe campaign organized by Kristina Bright to help Beth and Alex move into a more functional home for Alex has raised over $108,000 as of Tuesday.
Bright said while the Malarkeys' new home isn't permanent, it will do for now.
"This new home is showing them what will and will not work when they get their permanent home," Bright wrote. "We do not know how long this part of the journey will be, we need to see what the father decides to do and when." 
Beth told the Bellefontaine Examiner her local attorney, Thomas Novack, was set to appeal their eviction earlier last month before he died unexpectedly. 
Now, Beth is asking for prayers as she and her son face an uncertain future.
"If you could please continue to pray for wisdom for all involved as well as peaceful resolutions and willingness to work toward those," she told the Examiner.
"This life is but a mist as the Bible says. We continue to seek to honor God in navigating this world while we are here. It can be very painful and challenging. Nothing happens without a purpose behind it.
"Trusting God, thankful for the sacrifice of His Son, and as I continue to say … But God."
While it's not clear what the Malarkeys' timeline is going forward, Bright asked their supporters to "please continue to pray that the father sells the home, release Beth from the mortgage, and then leaves them alone."
"He has hurt them enough," she added.