Beth Moore Gives Porn Warning to Christians: 'You're Burning Down Your Home With Your Kids in It'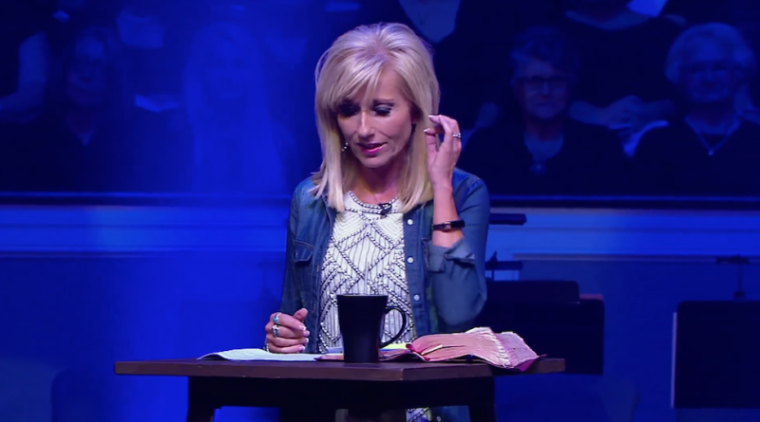 Evangelist Beth Moore of Living Proof Ministries has urged married Christian couples to remove pornography from their lives, warning that they will "burn down" their home if they use it.
"Listen, I didn't have the kind of childhood that afforded me the luxury of naivety. Wish I had. This comes from 6 decades of real living & 4 decades of actively serving in a position where I see incalculable wreckage & hear innumerable stories. GET PORNOGRAPHY OUT OF YOUR HOME," Moore wrote on Twitter on Tuesday.
"Christian married couples, honestly, what the heck are you doing?!?" she asked.
"You think you're lighting up your sex life and you're burning down your home. WITH YOUR KIDS IN IT."
Moore has been a vocal voice in the evangelical community, calling for abuse in the Church to be exposed and rooted out.
In an open letter to Christian men in May, she warned that misogynistic attitudes and viewing women as sexual objects are widespread in not only society but the Church as well.
"About a year ago I had an opportunity to meet a theologian I'd long respected. I'd read virtually every book he'd written. I'd looked so forward to getting to share a meal with him and talk theology," she shared of some of her experiences.
"The instant I met him, he looked me up and down, smiled approvingly and said, 'You are better looking than _________________________________.' He didn't leave it blank. He filled it in with the name of another woman Bible teacher."
A Gallup survey in June found that a growing percentage of Americans, now 43 percent, believe  porn is morally acceptable. But several experts have said that it leads to dangerous effects, such as eroding healthy human relationships.
"If loneliness can lead to pornography use, and pornography use may bring about or intensify loneliness, these circular linkages may create a vicious cycle, pulling the user even further from health-promoting relationship connections," said Mark Butler, a professor in the school of family life at Brigham Young University, in an essay this week.
"When pornography is used to trigger the sexual system, the biology of the sexual system produces a false relationship experience, offering temporary 'relief' from lonely feelings, but soon enough, the user again faces a real-world relationship void," Butler added.
Analysis released by the Family Research Council in June chronicled the downward-spiral some women say watching pornopgraphy sends them on.
"I'm not being dramatic when I say that one wrong click changed my life ... I was instantly taken to a world of seeing men and women treating each other like animals, depicting abusive sex," said one unnamed female addict from Alaska.
"What I saw shocked me, but I couldn't bring myself to click away from the site because of how the images made me feel. I started going back to it again and again and it quickly started to twist my perception of what was supposed to be love. The images were burned into my mind and I couldn't get them out."
In February, the Florida House passed a resolution declaring pornography a public health risk, arguing that it incites "deviant, problematic or dangerous sexual behavior" among users.
Republican Rep. Ross Spano, the sponsor of HB 157, explained that research has "found a correlation between pornography use and mental and physical illnesses, difficulty forming and maintaining intimate relationships, unhealthy brain development and cognitive function, and deviant, problematic or dangerous sexual behavior."
The Florida resolution warned that children and teens are the most "at-risk" groups when it comes to pornography.