Bethel worship leaders respond to church criticism: 'Where there's life, there are messes' (part 1)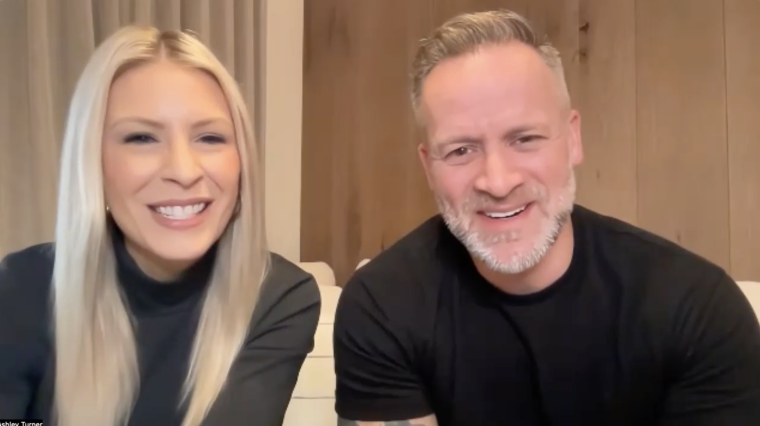 Despite the constant criticism of Bethel Church, worship leaders Brian and Jenn Johnson celebrate being part of a ministry that's full of "life," even if that sometimes means it comes with "weird things."
Bethel Music is gearing up for the release of their upcoming album Come Up Here, and the talented couple who co-founded the group and Bethel Music Worship School in Redding, California, told The Christian Post they would rather be continually criticized for practicing their faith than be members of a dead church.
"With YouTube, they take a five-minute snippet, something that's a thought, a question from a leader, he's processing on stage. Then people just go, 'They believe this!' No, he's posing a question, and in the last 15 minutes is him answering that. So, it's like the sound bites," said Brian, who, along with his wife, is a senior worship pastor at the church. "The truth is, yeah, there's some stuff that's crazy. Crazy people come to our church, yeah, it's true. But everyone's in a process; everyone's on a journey." 
Brian is the son of Bethel Senior Pastor Bill Johnson. His mother, Beni Johnson, recently died from cancer. He explained that Bethel doesn't believe in throwing people away while they're still on a journey of faith: "Don't throw the baby out with the bathwater. My dad's very gracious with people, with humankind. So you get used to it." 
The worship pastor who received top awards for his No. 1 song "One Thing Remains" back in 2013 and publicly addressed a months-long nervous breakdown he suffered by sharing that experience in the book, When God Becomes Real, said he tends not to watch videos or read negative comments said about the church or its worship music. 
"What's funny about the noise is after someone says something, a week later, it's gone; no one cares," Brian said.
Bethel, which boasts 11,000 members, is often criticized for some of its charismatic practices.
Among the many criticisms of Bethel was the claim that gold dust, called a "glory cloud," fell from the ceiling during a corporate worship event. Bill Johnson described this phenomenon as a glory cloud and a supernatural sign of God's presence. The church was also accused of using "Christian tarot cards" as part of an outreach ministry tool to reach people attracted to New Age practices. 
Bethel also made headlines in 2019 when the congregation prayed for the resurrection of a 2-year-old girl named Olive. Her parents and the church prayed for a week for that miracle to pass until she was laid to rest and a memorial service was held. 
Jenn, the voice behind many of Bethel Music's worship songs, said she doesn't allow the negative comments get to her.
"I think that [it's] like water off a duck's back in a big way. At the end of the day, the people who are on staff at Bethel are very good people. But what I love about the culture is this: we're OK with practicing." 
"We're OK with being vulnerable and talking and not having a polished thing but being honest and vulnerable in what we're doing and saying and singing and risking. And that comes with messing up," she added. "If you want to be perfect [in] every way, you're going to control God right out of the situation."
Jenn explained that taking "risks and being vulnerable" in preaching, leading worship and playing an instrument are big things. 
"Something that I appreciate about the culture of Bethel is people have said weird things, people on staff have said weird things, we've said weird things. What human on the planet hasn't? It just gets cut and pasted, but the hearts are really beautiful," Jenn maintained. "They have a culture of practice, which I really appreciate." 
Turning to the Bethel Church's School of Supernatural Ministry, which has also been the source of much criticism, she declared: "They are practicing using the gifts of the Spirit. They are practicing. They're learning, they are students. I think people need to be reminded of that.
"Yeah, there's some crazy stuff. But Bill [Johnson] says it best: 'In a barn, there's a lot of animals, there's birth and poop."
Brian swiftly added, "There's a lot of life, but where there's life, there are messes!" 
"That's the concept for us. There's order in a graveyard, but a garden is wild, and it's being pruned," she added, noting how gardens play a role throughout the Bible from the Garden of Eden to Jesus going into the Garden of Gethsemane after the Last Supper. 
We want growth, and life and health, and you gotta pull some weeds sometimes, but we'll take that all day any day over a dead, controlled environment of cookie cutter. We want the presence of God in life!"
In part 2 of CP's interview with Brian and Jenn Johnson the worship leaders discuss the loss of their mother and mother-in-law Beni Johnson, the inspiration for their upcoming album, and feeling God's presence in a forest where Bethel Music's new album was recorded.