Bethenny Frankel Divorce: Jason Hoppy Wants Rumored Boyfriend to Stay Away From Bryn?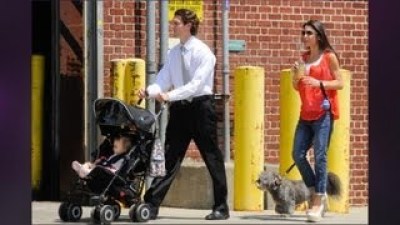 Jason Hoppy, the estranged husband of Bethenny Frankel, is reportedly considering taking legal action to prevent the talk show host's new boyfriend from being in the presence of their daughter Bryn.
The pharmaceutical sales executive, 41, is currently embroiled in a bitter divorce dispute against Frankel, who is reportedly seeking sole physical custody of their 3-year-old daughter. Tensions rose in recent days after Frankel was photographed enjoying a beach outing with her rumored new boyfriend Michael Cerussi III.
Cerussi, who works as a prominent financial advisor, was reportedly accused of rape while a student at Union College in 2000, located in Schenectady, N.Y, according to the New York Daily News.
While criminal charges were never filed against Cerussi, he was reportedly expelled from the Liberal Arts College in the wake of the allegations which triggered Hoppy's concerns.
"Jason had previously asked a judge to issue an order prohibiting Bethenny from having any of her boyfriends around Bryn. The judge denied Jason's request before, citing the fact that there was no evidence that being around her mother's boyfriends harmed her," a source told RadarOnline.com.
"Jason is currently mulling over his legal options in light of the reports that Bethenny is dating Michael," the insider explained. "He is concerned about the past allegations surrounding Michael. It's just a very sad situation because Jason and Bethenny continue to argue over care of Bryn, all while still living under the same roof."
The former "Bethenny Ever After" stars separated in December 2012 after two years of marriage and they are scheduled for trial in coming months.
While Hoppy had initially also requested sole child custody of Bryn in his response to Frankel's 2013 divorce filing, he now reportedly wants a fair compromise however Frankel is not interested. The "Bethenny" host is said to be worth between $25 million and $55 million and the pair allegedly signed an ironclad prenuptial agreement ahead of their 2010 wedding.
"Jason has come a long way since he filed for divorce and requested sole custody of Bryn, just as Bethenny did when she initially filed. Jason doesn't want to cut Bethenny out of his daughter's life, and he recognizes that Bryn needs her mommy," a source said previously.
"Jason is agreeable to joint custody of Bryn, but Bethenny is absolutely balking. She wants sole custody of Bryn, period. No compromises. It makes no sense because Jason is a very active father and plans to be a huge part of his daughter's life," the source explained.