By 'God's Grace' City Lifts Ban on Police Officers' Bible Study
By 'God's Grace' City Lifts Ban on Police Officers' Bible Study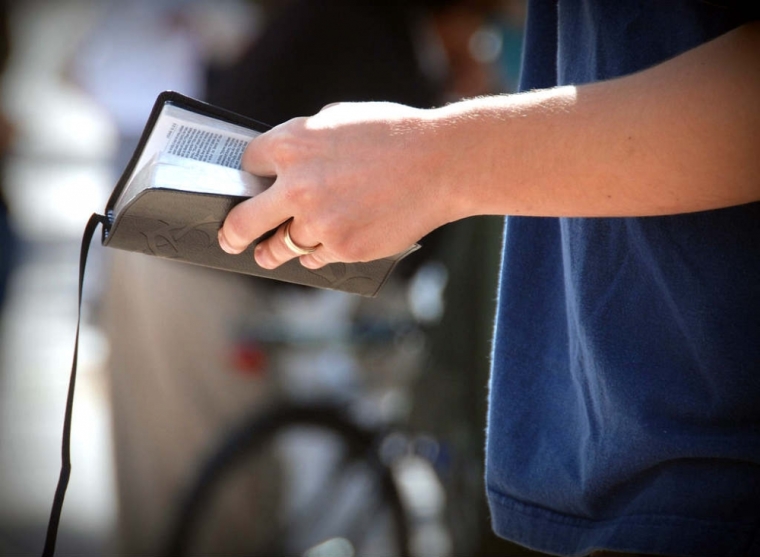 An attorney representing police officers in Beaumont, Texas, has said it is by "God's grace" that the city recently reversed its decision to bar police officers from partaking in a lunchtime Bible study at the police station.
Attorney Briscoe Cain, who's representing the four police officers who threatened to sue the city after they were told they couldn't hold a Bible study on government-owned property, said in a recent statement that "it is by God's grace that we can declare victory on this very important issue."
Cain had previously accused the city of infringing on religious freedom.
"We've never thought that this would be occurring here in Texas. Maybe we'd see this issue here in California, but here we have a city that has prohibited police officers from having voluntary Bible study during their lunch break in the building behind us," Cain said in a statement to the media last week,
During an interview with Breitbart, Cain added: "At a time when the lives of those who serve and protect us is under the microscope in a way we've never seen before, a city manager and city attorney have singled out our men and women in blue and demanded that they stop coming together to pray and read the Bible. This is one of the most blatant attacks on Christianity and anti-police officer moves we have seen a city take."
The city had previously indicated that "city buildings are for public purposes and to conduct city business" and "therefore, city policy prohibits all non-business activities so that we treat everyone the same."
Last weekend, however, City Manager Kyle Hayes described the incident as "more of a big misunderstanding," saying that the issue has been resolved and the officers will now be able to hold their Bible study in the police department's conference room.
Cain told KTRH-TV that despite the department's claims, he remains skeptical that the officers' religious rights will be respected.
"The police officers at one point were able to use any open facility [at the police headquarters]," he told the local media outlet. "And now the city manager or the city attorney is saying, well, you can use the Chief of Police's conference room — if it's available."
The Texas Values Christian advocacy group, which also served as a legal counsel in defense of Beaumont police officers, said in a statement that the city's managing staff should be "ashamed of themselves."
"The city of Beaumont should be ashamed of themselves for this outrageous denial of our fundamental rights. We hope the city now understands that the people and vigorous advocates in Texas will not allow religious liberty to be trampled on," the group stated.
Texas Lt. Gov. Dan Patrick released a statement arguing it "is completely unacceptable for the city of Beaumont to ban its police officers from holding voluntary Bible studies during their lunch hour. This is an infringement on their First Amendment Right to free exercise of religion guaranteed by the United States Constitution."