Biden says his philosophical views are more in line with Pope Francis than Benedict XVI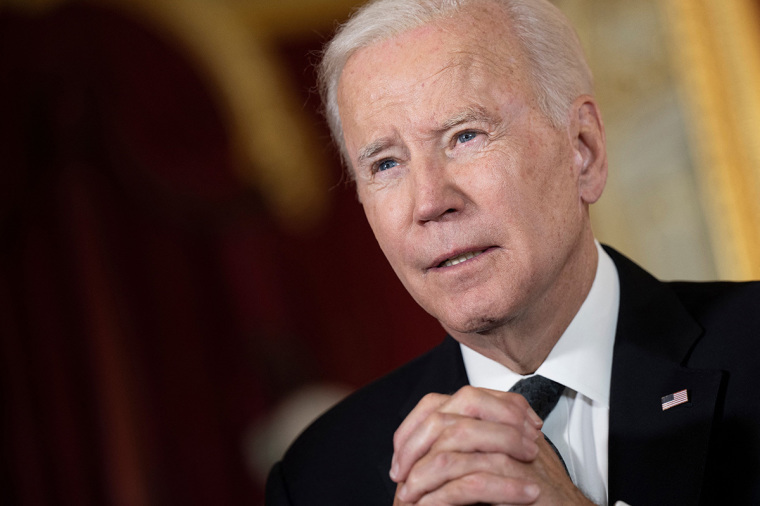 President Joe Biden said Wednesday that he "admired" the late Pope Emeritus Benedict XVI despite their philosophical differences, acknowledging that his views as a Catholic are more in line with Pope Francis. He also shared why he did not attend the Catholic leader's funeral.
Shortly before he left the White House to give a speech in Kentucky, EWTN Washington Correspondent Owen Jensen asked Biden, "what did Pope Benedict mean to you as a Catholic?" The president responded by recalling how he "had the opportunity to spend some time with Pope Benedict, a couple hours" in 2011 when he served as vice president. 
"It reminded me of being in theology class," Biden added. "We spoke about [St. Thomas] Aquinas and about 'Summa Theologica' and the whole litany. I found him to be relaxing and very rational."
Biden acknowledged that "he was a more conservative view within the Catholic realm than I have." The president identified himself as "closer to the Pope, the present Pope, in terms of his philosophy, his view" without elaborating. He said he "admired" Benedict XVI and described him as a "fine man." 
Jensen asked Biden, the second Catholic to serve as president of the United States, why he wouldn't attend the late pontiff's funeral on Thursday.
"The reason I'm not attending the funeral tomorrow is because it takes an entourage of 1,000 people to show up," he replied.
"We would move everything in the wrong direction. I inquired about that. And … people are sending mostly their apostolic delegates, their ... folks in Rome. That's what we're going to do." 
The president insisted he "would just get in the way," reiterating that "I had made my views known" that Benedict was "a fine man."
Biden's remarks come a day after Jensen asked White House Press Secretary Karine Jean-Pierre during a press briefing if the president would attend Benedict's funeral.
The White House spokeswoman indicated that U.S. Ambassador to the Holy See Joe Donnelly would attend Benedict's funeral. She also remarked that the president "remembers the Pope's generosity and his meaningful conversation they had … when the President visited the Vatican back in 2011" as Vice President, echoing Biden's comments to Jensen Wednesday.
Benedict died Saturday at the age of 95. Born as Joseph Ratzinger in Germany, Benedict assumed the papacy in April 2005, following the death of longtime pontiff Pope St. John Paul II.
Benedict served as Bishop of Rome through February 2013, when he resigned due to health concerns. After becoming the first pope to resign in six centuries, Benedict assumed the title of Pope Emeritus as Cardinal Jorge Mario Bergoglio of Argentina succeeded him as Pope. 
As Biden suggested in his comments to Jensen Wednesday, Biden and Benedict differed on their views regarding critical elements of Catholic Church teaching, particularly on abortion.
Benedict addressed the conflict between Catholic teaching and Biden's views on the issue of abortion in a 2021 interview with the Italian publication Corriere Della Sera. 
"It's true. He is a practicing Catholic and observant. And he is personally against abortion," Benedict stated in the interview. "But as a president, he tends to present himself in continuity with the platform of the Democratic Party. … And on gender politics, we have not yet fully understood what his position is."
Biden is one of several Catholic politicians who embrace the Democratic Party's steadfast support for legal abortion despite their denomination's opposition to the procedure.
As Cardinal Ratzinger, Benedict sent a letter to high-ranking church officials in the U.S. advising ministers of holy communion to withhold the eucharist from Catholic politicians who advocate for legal abortion. He argued that "abortion or euthanasia is a grave sin" and "it is therefore never licit to obey it, or to take part in a propoganda campaign in favour of such a law" supporting the grave sins "or vote for it."