Bill Hybels Resigns From Willow Creek Church Amid Misconduct Allegations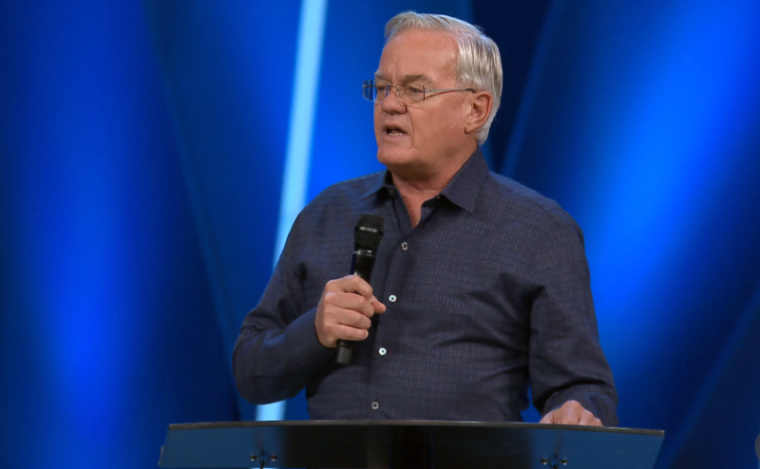 Maintaining his innocence at a church gathering, Bill Hybels, founder and senior pastor of the multi-campus Willow Creek Community Church in South Barrington, Illinois, announced on Tuesday his decision to retire from his role six months earlier than planned under a swirling cloud of sexual misconduct allegations.
"I have decided to accelerate my planned retirement date from October of this year to tonight. This decision was mine and mine alone, but after much discussion, my decision earned the unanimous support of the Elders and the Executive Team," Hybels said in a statement he read to the church.
"As Lynne (wife) and I have watched this, it has been extremely painful for us to see this controversy continue to be a distraction that is hindering our Elders and church staff, as well as the WCA (Willow Creek Association) staff, from carrying out the work of these fantastic ministries," he explained. 
"[I]t has been increasingly clear to us that they (Willow Creek ministries) can't flourish when the valuable time and energy of their leaders are divided. The leaders of both our church and the WCA  need the freedom to get on with the task of carrying out the missions God has given them."
In an extensive investigation published by the Chicago Tribune last month, Hybels denied a number of sexual misconduct allegations against him, which include a consensual affair with a married woman, who retracted her claims. The Tribune report also alleged a pattern of behavior against Hybels that includes suggestive comments, extended hugs, an unwanted kiss, and invitations to some of the women to hotel rooms. Investigations commissioned by the church, however, could not substantiate the allegations.
Critics like John Ortberg, senior pastor of the nearly 4,000-member Menlo Church in Menlo Park, California, who previously served at Willow Creek, have insisted that the investigation of the sexual misconduct allegations against Hybels, was "poorly designed" and exposed his accusers to "grave risks."
In his Tuesday announcement, Hybels staunchly maintained his innocence, calling some of the allegations "misleading" and others "entirely false," but said he has been "sobered" by the accusations. He admitted to being sometimes naïve in his relations with others and noted some of his actions were misinterpreted.
"In recent times, I've been accused of many things I simply did not do," he said. In an earlier church meeting, he said accusations of a kiss and a consensual affair were completely false.
Addressing other allegations, he said, "I realize now that in certain settings and circumstances in the past I communicated things that were perceived in ways I did not intend, at times making people feel uncomfortable. I was blind to this dynamic for far too long. For that I'm very sorry."
"I too often placed myself in situations that would have been far wiser to avoid. I was, at times, naive about the dynamics those situations created. I'm sorry for the lack of wisdom on my part. I commit to never putting myself in similar situations in the future."
Among Hybels' accusers is Vonda Dyer, a former Willow Creek ministry worker who alleged that in February 1998 while on a trip to Sweden, Hybels crossed the line.
She said Hybels summoned her to his hotel room, poured her wine and invited her to get comfortable on his couch after telling her he had taken a sleep aid popularly known as Ambien.
Soon after that, things took a sharp turn when he started complimenting her looks and criticizing her husband. He then suggested they lead Willow Creek together. He allegedly then put his hands on her waist, caressed her stomach and kissed her.
"He told me what he thought about how I looked, very specifically, what he thought about my leadership gifts, my strengths," she told the Tribune.
She said she told him to stop and left the room.
Hybels denied ever touching her stomach or kissing her. "It never happened," he maintained earlier to the church, noting that he will call her version of that story a lie until his dying breath. 
Hybels had announced last year that he would be stepping down in October 2018. He already named his successors — Heather Larson, who will be lead pastor, and Steve Carter, who will be lead teaching pastor. 
Though the elders and church leaders have stood by Hybels, the longtime pastor decided to step down early due to the distraction.
Along with retiring as senior pastor, Hybels said he has also stepped out of his usual teaching and hosting roles at the upcoming Global Leadership Summit.
"This, too, was my decision, but after discussion and prayer it was agreed upon by the WCA Board," he said.
"Going forward, I feel the need to humbly look deep inside myself and determine what God wants to teach me. I intend to continue surrounding myself with wise counselors and trusted friends, and to ask them to speak honestly into my life so that I can learn every single lesson I need to learn from all of this. I have complete peace about this decision and will not rush this process. Your prayers would be much appreciated during this upcoming season of reflection," he added.
Pam Orr, speaking on behalf of Willow Creek's elder board, said: "Although we are deeply saddened, for so many reasons, by the circumstances surrounding the end of Bill's tenure, we accept and see the wisdom in his decision. We thank God that He uses ordinary people to do His good work. And we are grateful that Bill listened to God's call on his life and served the church, and God's Kingdom, for the last 42 years."
Hybels founded Willow Creek in 1975.