Bill O'Reilly's 'Killing Jesus' Already a Bestseller?
Nonfiction Title Details 'Murder of Beloved and Controversial Young Revolutionary'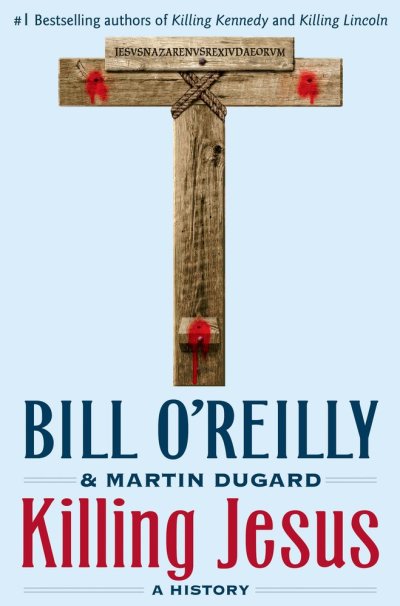 Fox News anchor Bill O'Reilly and historian Martin Dugard have teamed up once again for a follow-up to their successful Killing Kennedy and Killing Lincoln books by tackling Christ's "murder" in Killing Jesus: A History. The book, available Sept. 24, has already emerged as No. 1 on Amazon and seems poised to become an instant bestseller.
In Killing Jesus O'Reilly "details the events leading up to the murder of the most influential man in history: Jesus of Nazareth," according to publisher Henry Holt and Company.
"Jesus Christ has not walked among us physically for more than two thousand years, yet his presence today is felt the world over and his spirit is worshipped by more than 2.2 billion people," O'Reilly said in a press release earlier this year. "His teachings, his legacy, his life as a flesh-and-blood man, and his death created the world in which we live."
"Killing Jesus will take readers inside Jesus's life, recounting the seismic political and historical events that made his death inevitable — and changed the world forever," adds the publisher.
As of press time, Killing Jesus was ranked No. 1 in general religious books, in religion-related history and in Christology on Amazon, with the hardcover, Kindle edition and audio versions dominating the lists.
O'Reilly and Dugard's latest historical offering appears set to become a blockbuster, especially with the National Geographic Channel again partnering with the authors for a television adaptation of Killing Jesus, as was done with their previous two titles.
O'Reilly and Dugard's two previous nonfiction books, Killing Kennedy: The End of Camelot (2012) and Killing Lincoln: The Shocking Assassination That Changed America Forever (2011), dominated sales upon their release and were instant bestsellers. Both books have sold more than 5.6 million copies in various formats.
"The books are punchy. They are blunt and clear, not being burdened with an overload of pesky footnotes. But they do favor facts, and the more numerical the better," reads an assessment of both Killing Kennedy and Killing Lincoln in a New York Times review, which called the former title a "gerund-happy book" and "highly dramatic."
Some readers have found O'Reilly's writing style in this Killing series too simplistic and his "dramatic" elements a turnoff — while others have expressed an appreciation of his movie-styled guide through history (see reviews on Goodreads.com).
In regard to his writing style, the Fox News anchor credited his time in the news industry, saying he has learned to "write for the ear, not for the eye."
When asked last year about divvying up duties, O'Reilly explained that Dugard "basically does the research, and I write it, and we go over every line together. I supply the you-are-there narrative. It works great."
O'Reilly, who holds a BA in history, said last year he was "excited" about the book project concerning the life and death of Jesus.
"Separating fact from myth based on various sources with their own agendas, it was extremely difficult delivering an accurate account of how Jesus died, lived and how his message affected the world," he added.
O'Reilly, a Roman Catholic, has said he believes God used evolution to create the world. He considers many of the Old Testament writings to be allegorical while he believes the New Testament contains historical accounts.