Bill to Overturn NYC Schools' Ban on Worship Enjoys Wide City Council Support
Early indications show that a New York City Council bill overturning a ban on church services in school buildings is strongly supported and will likely be enacted if called up for a floor vote.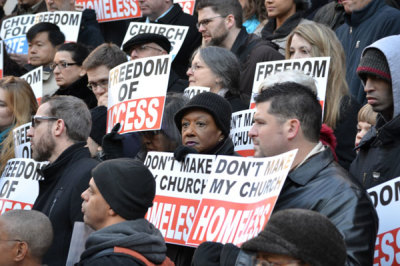 Although the resolution was just introduced Thursday, Councilman Fernando Cabrera (D-Dist. 14)'s aide, Zellnor Myrie, told The Christian Post that it already has the support of over half of the City 51 Council members.
"On the very first day of introduction, we already have almost 27 members signed on," Myrie said.
If the bill is passed it would be a victory for the Bronx Household of Faith, a church that has fought for 16 years to hold Sunday worship meetings in the school auditorium it has occupied since 2002.
Since 1994, the New York City Board of Education has rejected BHF's request to hold Sunday services at P.S. 15, citing its policy against worship services at public school facilities. Other community groups have been allowed to use school buildings during off hours as a public space for meetings and activities.
A federal district court issued an injunction in 2002, allowing BHF to hold Sunday services in the auditorium of P.S. 15. However, the 2nd Circuit Court of Appeals overturned the injunction in June this year, ruling that the Department of Education had a right to enforce a ban against religious groups in school facilities.
Pastors Fighting Ban on Using School Space
The appeals court said the decision does not constitute viewpoint discrimination because it does not seek to exclude religious expression but rather excludes a type of activity – worship services.
"The exclusion of religious worship services is a reasonable content-based restriction," the appeals court said in its opinion.
BHF's options seemed to run out after the U.S. Supreme Court rejected hearing the case on Monday.
Councilman Cabrera, also the pastor of New Life Outreach International, has supported BHF in efforts to remain in the school. Myrie told CP that he has spoken with city education officials to change their policy. The education department declined to change the policy but did extend the cut-off date for BHF's auditorium use from January 2012 to Feb. 12.
Cabrera gathered with religious leaders and BHF members Thursday at 11:30 a.m. to announce Assembly Bill A 8800. The bill would prevent school districts from excluding groups from meeting on school property because of religious content or the viewpoints of the speech featured in the meetings.
Alliance Defense Fund Senior Counsel Jordan Lorence praised the bill. ADF represented BHF and helped it gained favorable rulings from the appeals court in 2003 and from the district court again in 2007.
"This has shifted from the courts to the court of public opinion," he said. "What I'm seeing here is that a lot of people in New York City and especially elected officials are surprised to find out that there is such a school policy barring worship services. They don't think that its right and they're not convinced by the justifications that the school officials are giving why they have this policy."
Lorence predicts that there will be no opposition to the bill.
Myrie said city officials and members of the religious community must now wait and see if Council Speaker Christine Quinn (D-Dist. 3) will call the bill up for a floor vote. Quinn is not among the almost 27 council members expressing support for Assembly Bill A 8800, but Myrie said the speaker generally does not endorse bills before they are called up for a vote.
Lorence said they will look for other legal opportunities if the bill fails. In the meantime, he hopes that the bill will put additional pressure on the city's Department of Education.
"ADF did some studies this summer of the top 50 school districts in the country in terms of school population and New York City is first of course. But they're the only school district in the top 50 that has a school policy anything like this – that bars worship services," said Lorence.
He hopes broad support of Assembly Bill A 8800 will lead the department to get rid of its policy.