Billy Graham: 10 Fascinating Facts About 'America's Pastor'
Billy Graham: 10 Fascinating Facts About 'America's Pastor'
8. He was the first pastor to receive a star on the Hollywood Walk of Fame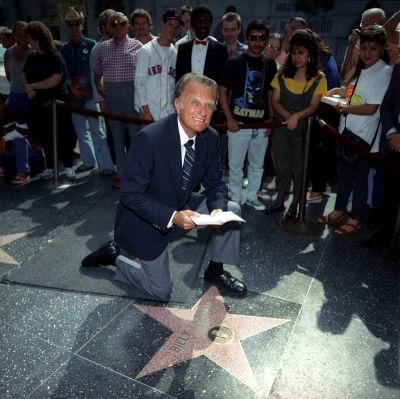 In 1989, Graham was the first clergyman to be granted a star for his work as a minister. He accepted the honor with humility while shifting the attention to Jesus Christ.
"My primary desire today in having my name inscribed upon this Walk of Fame is that God would receive the glory," he said. "I hope someday somebody will come and say, 'Who is Billy Graham? What did he stand for?' Perhaps a child will ask his parents or grandparents, and they will tell him that he was not a celebrity, not a star, but a simple preacher of the Gospel. And that they might explain the Gospel to him, and that many might find Christ in that."
When asked if he minded that his name would be permanently embossed on a boulevard that for some is synonymous with sin, Graham said: "We're all sinners. Everybody you meet all over the world is a sinner. The word sin means you've broken with the laws of God. We've all done that. So I couldn't condemn Hollywood Boulevard any more than any other place."