Billy Graham: Christians Can't Take a 'Casual' Approach to Church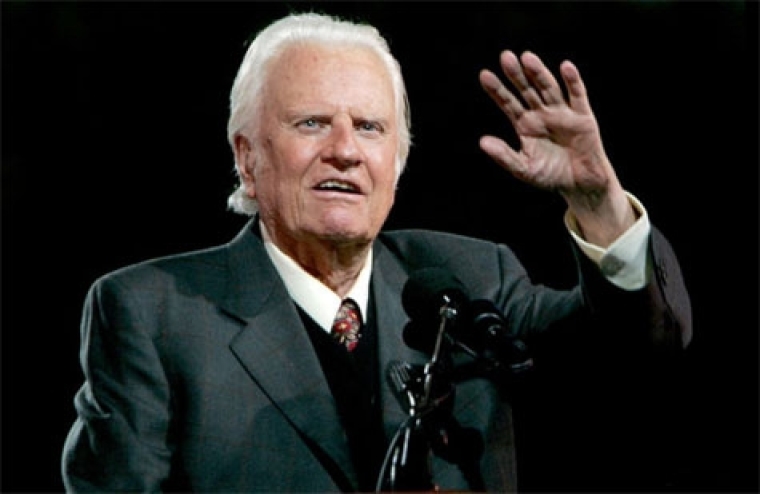 Christians can't take a "casual" approach to their faith in God, the Rev. Billy Graham said in a post this week.
Responding to a question on the Billy Graham Evangelistic Association's website, the 97-year-old religious leader said Christians must be completely dedicated and involved in their faith.
Graham explains in the BGEA "My Answers" post that while many are be tempted to stop attending church so they can focus on other weekend activities, such an approach to Christianity and Christ's love is not sustainable in the long run.
"People drop out of church for all sorts of reasons (and over the years I suppose I've heard them all!)," the reverend begins, suggesting that some people have good reasons to leave their church, including if their pastor isn't preaching the Gospel.
Many times, however, people drop out of church simply because "they want to do something else."
"Perhaps they've found church boring, or people haven't seemed friendly, or it's become a meaningless routine. But these aren't true of every church — and often they're only an excuse to do something else," the religious leader says, adding that this age-old problem can be traced back to the New Testament, as seen in Hebrews 10:25, when some believers "give up" meeting together.
Ultimately, although Christians might try to find an excuse for their church absence, they must really look at the true reason for why they worship in the first place: their relationship with Jesus Christ.
Christians must ask themselves "What place does Jesus Christ have in our lives?," Graham explains.
"Is He only one of many interests we have — or is He the center and foundation of all we do? A casual approach to Christ always leads to a casual approach to church," Graham continues. "Once you realize who Jesus is and what He has done for you through His death and resurrection, you'll never treat Him casually again."
Graham concludes his message by encouraging Christians to pray to God so that He will give them the "inner hunger" to strengthen their faith.
The religious leader has warned of the "casual Christian" in the past, writing in a March 2011 post for the BGEA website and Decision magazine that only a Christian fully dedicated to their values can serve as an "effective witness for Christ."
"I have found that the casual Christian has little influence upon others. It is only the Christian who refuses to compromise in matters of honesty, integrity and morality that is bearing an effective witness for Christ," Graham wrote at the time.
When asked in June 2007 if a person can be a Christian without going to church, Graham replied that while "it's possible to be a Christian without going to church," such people "will be missing out on an important part of what God wants to do in your life."
"Just as we need a balanced diet to be strong physically, so we need a balanced 'diet' to be strong spiritually — and part of that 'diet' is the church," Graham added.