Billy Graham: God Cannot Save Those Who Turn Their Backs to Him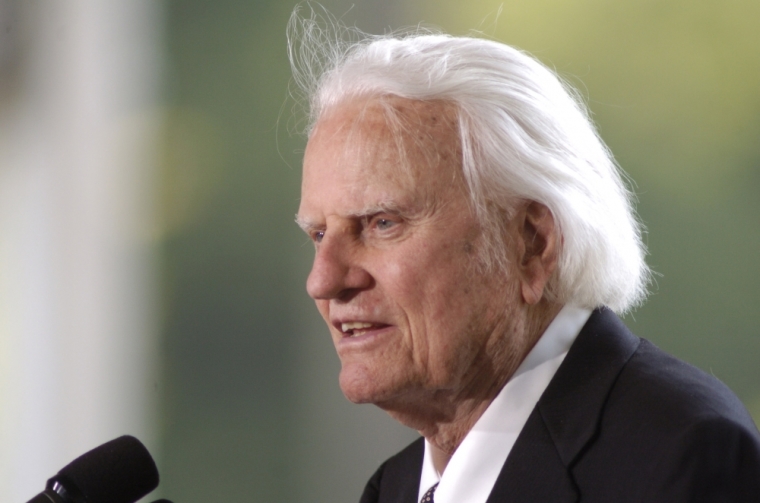 God cannot save anyone who hardens their heart to His message, although He will always welcome those who return to Him, the Rev. Billy Graham said in a blog post this week.
In response to a question posted in the "My Answers" portion of the Billy Graham Evangelistic Association's website, the 97-year-old evangelical leader said that although God will always welcome believers with open arms, no matter how far they've strayed, He cannot save those who have refused to listen to His message.
Graham points specifically to the story of Jesus' crucifixion, when one of two criminals being crucified with Jesus repented of his sins and asked for forgiveness. The other criminal refused up until his death to have faith in God.
While the repentant criminal was granted eternal life, the other was not.
"God welcomes anyone — absolutely anyone — who sincerely turns to Him in repentance and faith, even at the last minute," the evangelical leader writes.
However, "[…] God cannot save someone who refuses to be saved — and when a person repeatedly turns his or her back on Christ, their heart grows more and more hardened toward God."
"As a result it becomes easier and easier for them to resist God's call, and they are in danger of refusing to turn from their stubborn unbelief," the pastor continues.
Ultimately, only God has the power to truly change the hearts of stubborn non-believers, Graham writes.
"Only God can change our hearts, and only God can break through the barriers your neighbor has built," Graham writes, encouraging Christians to pray for nonbelievers so that "God will break through [their] barriers and draw [them] to Jesus."
"Pray too that God will help you be an example to him of the hope and new life we have because of Christ," Graham adds.
The Baptist minister has spoken on the topic of nonbelievers before, writing in an October 2015 post that Christians should show compassion and love towards their atheist friends and neighbors.
Graham writes that because God loves all of His children, so should we, and we should pray that non-believers find Christ.
"The most important thing you can do is pray for your [atheist] friend. Right now he has hardened his heart against God, and logic alone won't change him (although you should be prepared to challenge his ideas if God gives you an opportunity). But God can change him, and you should pray that He will," Graham writes.
He also encourages Christians to pray to God that they may "be an example to [atheists] of a life that has been changed by Jesus Christ."
"Does [your atheist friend] see Christ's love and joy and peace in you?" Graham questions. "Right now he wants to run his own life — but that is a dead-end road. Ask God to use you to show him there is another way— the way of Christ."