Over 1,300 'Bikers With Boxes' Donate Thousands of Gifts for Children to Billy Graham Library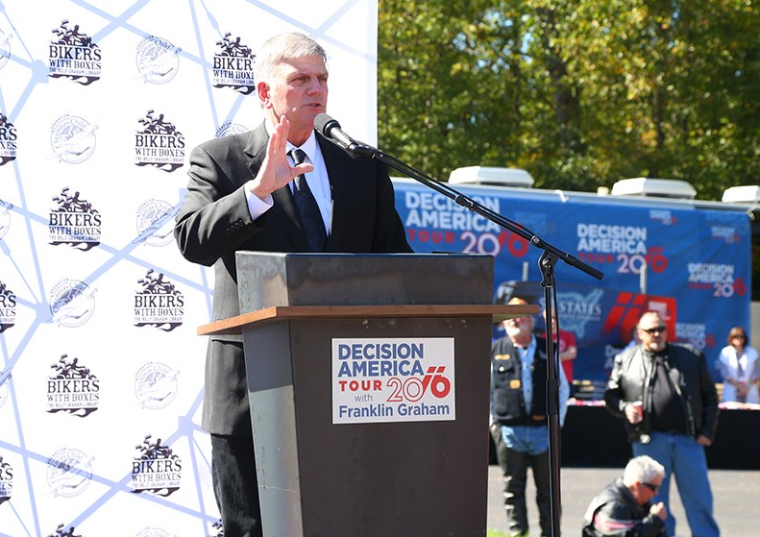 Over 1,300 motorcyclists descended upon the Billy Graham Library to donate thousands of presents for children overseas come Christmas.
Known as the eighth annual "Bikers With Boxes," the motorcade of philanthropy came to North Carolina on Saturday loaded with wrapped shoeboxes containing donations for Operation Christmas Child.
"We are amazed each year to see how God grows this event. The weather on Saturday was perfect, and guests were blessed to hear from a former shoebox recipient, award-winning musician Dennis Agajanian, and Franklin Graham," said Sonya Johnson, promotions manager with the Billy Graham Library, to The Christian Post.
"To see the outpouring of love and support from these motorcycle enthusiasts in the form of gift-filled shoeboxes shows how much they care for each child who will be on the receiving end."
A project of Samaritan's Purse, Operation Christmas Child seeks to provide gift-filled shoeboxes to disadvantaged children overseas.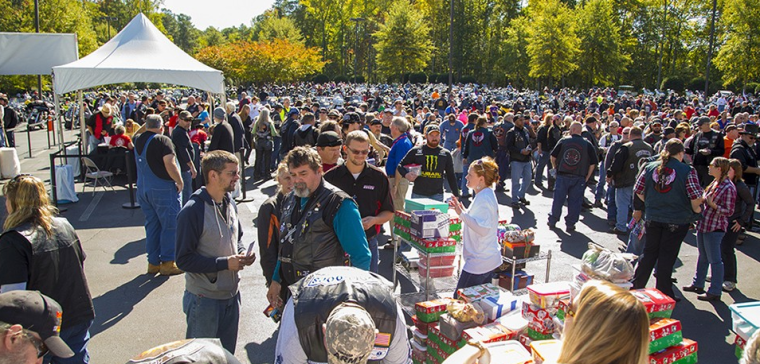 Begun in 1993 and boasting over 100 million deliveries, Operation Christmas Child has provided not only toys but school supplies, hygiene items, and Christian evangelism.
"The children that these boxes go to are kids who live in poverty, who live in some of the most war-torn areas of the world. Kids who have nothing, who've never had a gift in their life. When you pray (for them), I know God hears those prayers," said Rev. Franklin Graham, CEO of both Samaritan's Purse and the Billy Graham Evangelistic Association, to the more than 1,300 motorcyclists present.
One major donor at this year's "Bikers With Boxes" event was the group Carolina Faith Riders, headed by John Rumley.
This year the Riders brought a total of 1,175 boxes, which represented nearly a quarter of all shoeboxes provided at the event.
"The challenge was a playful one, but we wanted to encourage other people to bring more boxes than ever when this year's event rolled around," said Rumley, as reported by the BGEA.
"It's for the love of children and sharing God's Word. It's all for God's glory. If we can reach a child anywhere in the world with a shoebox, that's all I need."
Although the bikers gave their donations on Saturday, the national collection for Operation Christmas Child will take place next month.