Billy Graham Remembered by Close Family: 7 Reactions Reveal Surprises, Passion, Question for World
4. Jerushah Armfield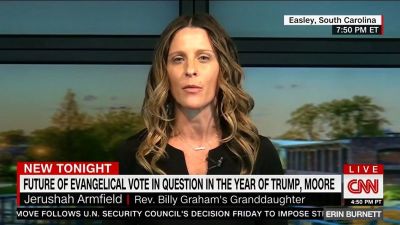 Jerushah Armfield, a writer and a pastor's wife in South Carolina, whose uncle is Franklin Graham, wrote on Twitter about her grandfather:
"My hero. Something so anticipated can still be so shocking. Thank you for the love. The world has lost a warrior, a lion and the most humble authentic spirit I have ever known. Blessed to call him grandfather. Well done sweet sweet faithful Daddy Bill."
She later told WSPA that the evangelist "was the same person talking to me about my school program, as he was fielding phone calls from the president of the United States."
"I don't think I experienced lack of a grandfather figure," Armfield said.
"He was friends to every president from long before I was born and just a real spirit of unity for this country," she added.
Armfield reflected that the world has lost "what I would believe is the last of his kind."
"They can just sense the authenticity of who he was," she said.