Billy Graham Responds to Non-Believer: Most Convincing Evidence for God Is Jesus Christ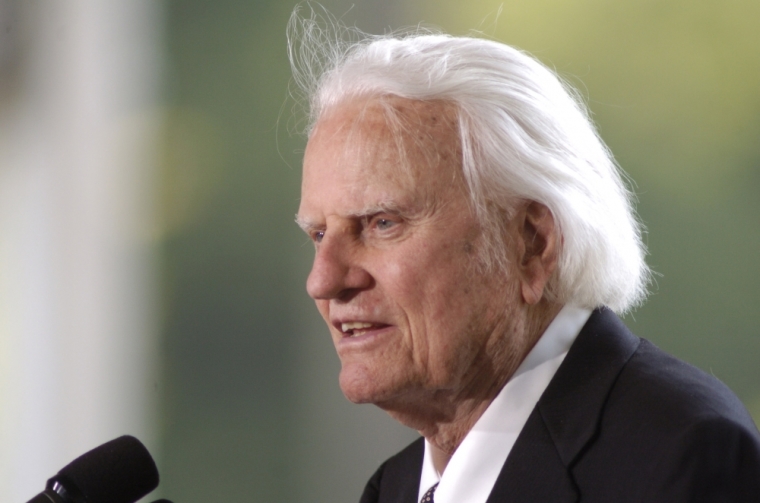 The Rev. Billy Graham says if he had to name the most convincing evidence for God's existence, it would be none other than Jesus Christ.
In his nationally syndicated advice column published on Tuesday, the 97-year-old evangelist was asked to provide one convincing piece of evidence to prove that God exists.
"I grew up in a religious family, but I outgrew all that years ago, and now I don't believe in God. Can you give me even one reason — just one — why I should believe in God?" the person asked.
Graham responded that while he could think of many evidences for the existence of God, "the most important one can be put into two words: Jesus Christ."
"Why do I say this? The reason is because once you understand who Jesus is, you'll never doubt God's existence again. In fact, you'll have every reason not only to believe in God, but also to make him the foundation and center of your life," wrote Graham.
"When you do, you'll discover not only that God is real, but that he loves you and wants to change your life. More than that, you'll discover that because of Christ we have hope — hope for today, and hope for life beyond the grave."
The famed preacher went on to add that "millions of Christians have believed" Jesus' statement recorded in John 10:30: "I and the Father are one."
"But they have believed it because they have discovered Jesus' life and teachings, and most of all, they have discovered the truth concerning his death for us and his resurrection from the dead," Graham continued.
"This is why I urge you to read with an open mind and heart the eyewitness accounts of his life, as they are found in the Gospels of the New Testament."
Graham is not the only Christian writer to conclude that Jesus is evidence for the existence of God. In an essay published by the apologetics site Life Hope & Truth, Jim Springer wrote that the Old Testament prophecies fulfilled in Jesus are evidence enough.
"If Someone wrote predictions or prophecies of the future and those prophecies consistently came to pass through the centuries, we would know that this Someone has an ability that no human has," Springer said.
"The Bible contains numerous prophecies from God that were written hundreds of years before their fulfillment, events that have already occurred and can be documented in history, both biblical and secular."