Billy Graham's Condition Revealed in 97th Birthday Tribute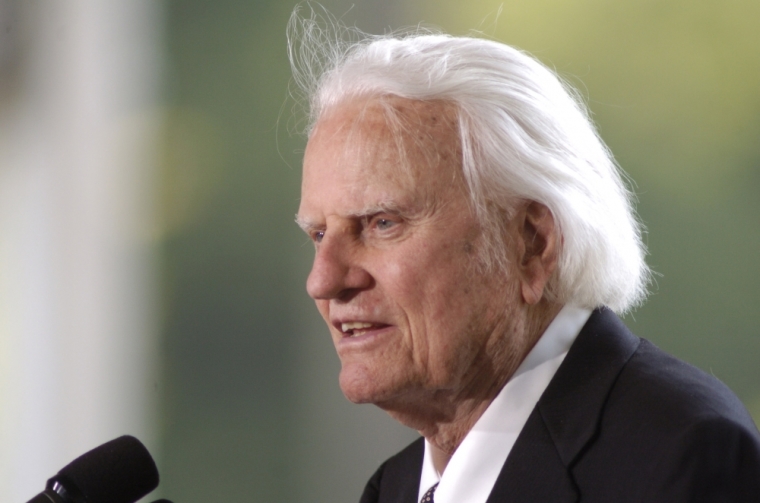 Legendary evangelist Billy Graham celebrated his 97th birthday over the weekend and his son, Franklin Graham, who has followed in his father's footsteps in ministry, took to social media with a touching message about his dad's condition and his deepest desire.
"Today is my father Billy Graham's 97th birthday!" Franklin posted, along with a photograph of a young Graham. "He came to faith in Christ just a week before his 16th birthday and went home and told his mother what he had done. He knew for sure that his heart had changed."
Graham went on to become one of the greatest evangelists of his time, preaching to millions and seeing many come to Christ. Graham is arguably the most influential Christian preacher of the last six decades. He was ranked No. 4 on Gallup's Most Admired Man List for 2014 and has been on its top 10 list 58 times between 1946 and 2014 — the most appearances of any man in the world since Gallup started the survey.
In the early '90s, the Billy Graham Evangelistic Association announced that the world famous evangelist had the early stages of Parkinson's disease.
In 2013, the North Carolina native prepared one last sermon titled, My Hope America, which was released on his 95th birthday on DVD and played worldwide. In September the evangelist released his last book, Where I Am: Heaven, Eternity, and Our Life Beyond, which he has been working on since before the release of My Hope America. Since then, not much has been said about the minister's health until Franklin's recent Facebook tribute.
"Even though he's not able to preach anymore, his mind is still clear," Franklin's birthday message read, going on to share his father's lasting desire.
"His desire is still there to tell the world about God's love for them and how God sent His Son, Jesus Christ from Heaven to Earth to take the sins of all mankind to the cross, die, and arise on the third day. My father's desire is that all men and women everywhere would come to know Jesus Christ as their personal Savior and trust Him and follow Him as their Lord" he concluded.
According to ABC 11 in North Carolina, Graham spent the day with family and friends at his home in Montreat, and The Billy Graham Library in Charlotte hosted a birthday celebration for the pioneer. An exhibit honoring Graham also opened at the North Carolina Museum of History in Raleigh on his birthday.
Read Franklin Graham's Facebook tribute to his father here.
jeannie.law@christianpost.com