Acclaimed Biographer Revives Theory That Bible Prophecy Inspired George W Bush's Invasion of Iraq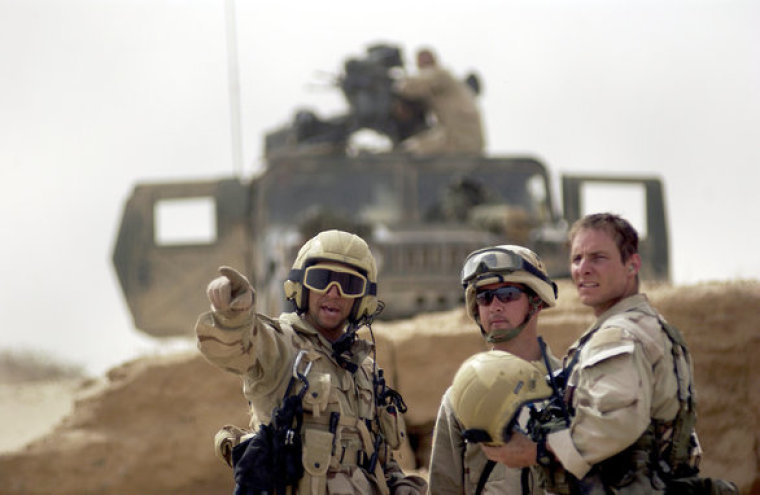 An acclaimed biographer is recycling an old allegation that President George W. Bush based his case for war in Iraq on prophetic scriptures in Ezekiel, which has historians and national security experts lambasting the author this week.
Jean Edward Smith, who has penned biographies of past presidents like Dwight D. Eisenhower and Franklin Delano Roosevelt, begins his latest book titled Bush, which was released in July, with the following indictment: "Rarely in the history of the United States has the nation been so ill-served as during the presidency of George W. Bush." He then dives headfirst into what some experts are describing as an ocean of untrue and ridiculous caricatures.
In a scathing review of the book in Foreign Policy Monday, Clements Center For National Security Executive Director Will Inboden, who served in the Bush administration at the State Department and National Security Council, noted how "wrong [he] was to be optimistic at all," regarding his expectations of the book. He thought it would be a worthwhile read given Smith's stature as a historian.
"Bush, is so replete with factual errors and specious judgments that an extended set of corrections and remonstrances seems warranted for the sake of the historical record," Inboden continued, adding that favorable reviews of the book appearing in the New York Times and Wall Street Journal are "wholly unwarranted."
The allegation that Bush spoke by phone with then-President of France Jacques Chirac in January of 2003 in which he referenced Old Testament passages in Ezekiel 38 and 39 about Gog and Magog, arguing that they necessitated an incursion into Iraq, is one salacious claim that, although not new, the biographer treats as credible and recounts at great length.
Smith charges that these theological views about the end times informed Bush's foreign-policy decision-making, and that Bush told Chirac that "Gog and Magog are at work in the Middle East. Biblical prophecies are being fulfilled. This confrontation is willed by God, who wants to use this conflict to erase His people's enemies before a new age begins."
He further contends that the 43rd president's "religious certitude and his invocation of Gog and Magog scuttled the possibility of French support for military action."
According to several senior officials with firsthand knowledge of that particular phone call Inboden checked with, "Bush never said anything remotely resembling those words."
In a phone interview with CP Wednesday, Inboden noted that though he has not met Smith in person, when he read his book it came across as "quite disrespectful and disparaging of people of religious faith."
"That certainly seemed to color his distorted coverage of President Bush," Inboden said, adding that most American presidents have spoken openly about their faith and need for God.
Smith's "contempt for that is unseemly" in his writing, he concluded.
"The Book of Revelation is the favorite book in the Bible for many evangelicals, and is often regarded even more highly than the gospels themselves. For George W. Bush, it was the epicenter of the universe," Smith writes in Bush.
Meanwhile, evangelical thinkers are incredulous.
Mark Tooley, president of the Washington-based Institute on Religion and Democracy, told CP Wednesday that Smith's book reveals an unthinking assumption by someone who "know[s] little to nothing about evangelicals."
The notion that evangelicals "are politically motivated by eccentric and even dangerous end times theories, among other odd beliefs" is a way to portray them and other traditional Christians as "potential threats to domestic and international harmony, " Tooley said.
In a Tuesday article in Providence, a journal of foreign policy and American Christianity he co-founded, Tooley wrote "I'm not personally familiar with any major evangelical schools of thought that saw the Iraq War through this kind of prophetic prism. It is instead a caricature assumed by persons, including secular historians and their editors, who know very little about supposedly crazy American evangelicals, and choose to project the worst."
To add insult to injury, Inboden also notes that the only footnote Smith's book contains about the Bush phone call to Chirac is from an equally dubious book by a partisan journalist who does not source his claims at all.
Although this story has received considerable coverage in the media for years "Smith seems to be among the first serious (or credulous?) scholar to repeat it in print and treat it as fact," Inboden said.