Bishop Eddie Long Back at New Birth Pulpit?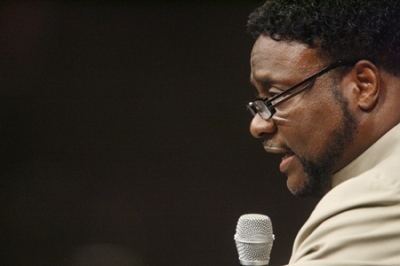 Bishop Eddie Long has apparently returned to New Birth Missionary Baptist Church after a month-long absence. The senior pastor had announced that he was stepping away from the pulpit to spend time with his family – an attempt to save his marriage with Vanessa Long, who has recently filed for divorce.
Long welcomed the New Year on the eve of 2011 with what appeared to be enthusiasm and vitality – telling his congregation "2012 is here! Shake off the remorse, shake off the depression, shake off the financial burden, start using your hands again and reconstructing!"
"God is more about your future than he was about your past," he urged at the "Watch Night Service."
Video footage of New Birth's New Year's Eve service can be seen below.
According to website AT2W, Long never mentioned the state of his marriage, but he did cause moments of emotion. The website recalled one incident in particular in which an unemployed woman placed a single dollar on the altar, as people were presenting their offering. After finding out that she was jobless, Long reportedly asked the congregation if anyone could provide her with employment. The bishop also reportedly asked the church's permission to offer all of the money on the altar to the same woman for a down payment on a house.
Bishop Long later told members of the Lithonia, Ga., megachurch who had left to "bring their tails' back to church and get connected again with their family," AT2W wrote. It was unclear if Long was referring to members who might have left New Birth after news of his wife filing for divorce.
The megachurch pastor had announced his leave from New Birth on Dec. 4, just days after Vanessa Long filed for divorce. According to Bishop Long, he needed time off in order to focus on his family.
"I'm still your pastor. You'll still receive my direction," Long said at the time, with Mrs. Long and two of their children standing by his side, the Atlanta Journal-Constitution reported. "You've given me some weeks to take care of some family business."
Long's announcement followed contradictory news that Vanessa Long had filed for divorce. On Dec. 2, Mrs. Long's attorney said she had filed the papers. However, shortly after the divorce news, New Birth Missionary Baptist Church issued a statement saying that Vanessa Long had experienced a change of heart and was no longer pursuing the suit. Regardless, her attorneys released a separate statement reiterating that Long intended to follow through with the split.
Bishop Long issued his own statement that same day: "Vanessa is, and has always been, a loving, dedicated and committed wife and mother."
"My love for her is deep and unwavering. It remains our sincere desire to continue working together in seeking God's will in these circumstances."
Eddie and Vanessa Long have been married for 21 years and have three children together.
SEE VIDEO OF EDDIE LONG CROWNED KING DURING NEW BIRTH SERVICE