Bishop Eddie Long's Mother Passes Away After Long Illness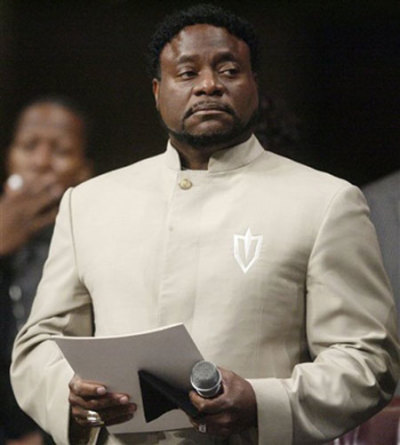 Bishop Eddie Long of New Birth Missionary Baptist Church in Atlanta will be laying his mother to rest Monday after announcing late last week that Hattie A. Long had passed away at the age of 91. She had been suffering from a "long illness," according to Long's media representatives.
Long shared the news of his mother's passing with supporters on Facebook on April 27.
"I want to personally thank everyone for all your prayers over the years for my mother, Hattie A. Long. With a heavy heart, I wanted to share with you that my mom went home to be with the Lord. Our family recognizes how truly blessed we have been to have her live such a long and full life. Although, this is a difficult time for us, we rejoice in knowing that she is 'fully' present with our Heavenly Father," read the statement from Long. His mother's death occurred at her home in Charlotte, N.C., the Friday before Long released his statement.
New Birth Missionary Baptist Church announced over the weekend that Hattie Long's "home going" service, is to be marked by a celebration of her legacy. The celebration service is being held at the church's Charlotte campus where Bishop Terrell L. Murphy serves as senior pastor.
Long, who celebrates his 60th birthday this coming Sunday, has been facing a string of financial challenges since last year, when it was first revealed that Ephren Taylor, a businessman who visited New Birth Missionary Baptist Church for a financial wealth seminar, was wanted by federal authorities for fraud. In February, former members of his Lithonia, Ga., megachurch filed a lawsuit against Long, alleging that the minister encouraged them to invest with Taylor, who is accused of stealing a million dollars from congregants.
Most recently, Long announced that his Christian Academy located on the church campus would be closing at the end of the school calendar due to a challenging economy and low enrollment among pre-K through 12th grade students.
Long, who also settled lawsuits in 2010 over sexual abuse allegations by former male members of his congregation, has been pastoring New Birth Missionary Baptist Church since 1987. The megachurch reports an attendance of 25,000 people.