Bishop Victor Couzens assures he did not use church money for affairs as some congregants stop giving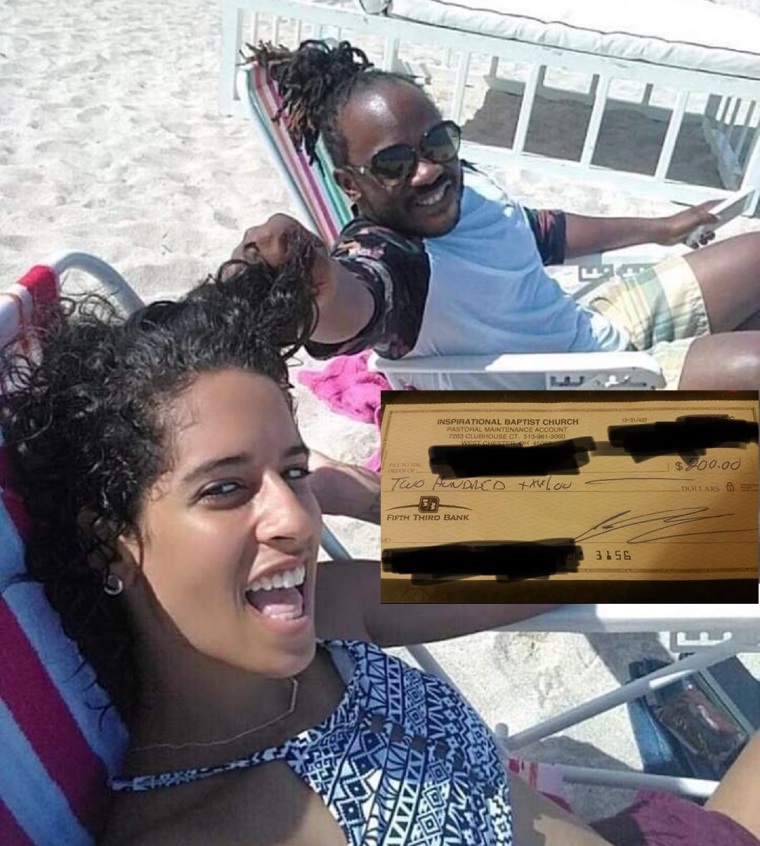 Pastor Victor S. Couzens of Inspirational Baptist Church in Cincinnati, Ohio, urged his congregation to "move forward" in a recent sermon in which he apologized for having sexual affairs with multiple women and revealed some members had stopped giving to his ministry because they believe he used church funds to support his lifestyle.
"Any check you have seen belongs to me, it does not belong to the church. Your tithe and your offering goes in the church's bank account. I don't have access to that account. I'm not a signer on that account. My understanding is that some have not been giving because they were concerned about where the money is going. If you need an excuse not to give, any excuse will do," the embattled pastor said in a clip shared on Facebook Sunday by Larry Reid Live.
Bishop Paul S. Morton, founding presiding bishop of The Full Gospel Baptist Church Fellowship International which encompasses some 5,000 churches and 1 million members, confirmed last month that Couzens, whom he described as his "spiritual son," engaged in "multiple" sexual relationships while he ran his 5,000-member church.
Morton's apology came after Andrea Garrison, a 30-year-old New York City model, went public about a long-term sexual relationship she had with Couzens after she discovered he was also seeing other women and lied to her about it.
Another unidentified woman, who is an educator, shared a story similar to Garrison's experience and alleged that Couzens paid for her education with "church checks" and took her on trips to places like Paris, France, during their time together.
A copy of one of those checks was shared with The Christian Post for the amount of $200, written on a church check earmarked as the "Pastoral Maintenance Account."
The Christian Post reached out to Couzens on Tuesday and asked if he was familiar with the check and if he could disclose the source of the funding.
"My congregation is fully aware of where the funds from the Pastoral Maintenance account comes from. And they are fully aware of where their tithes/offerings/donations are deposited, who controls those funds and signs the checks related to the revenue and income of the church," Couzens replied in an email to CP.
In his recent message, Couzens further acknowledged his behavior without going into details but insisted he did nothing illegal or unethical with the church's money. He also noted that the work of his church was too important for it to be derailed by "Satan."
"The work of the church is too significant. The mission that God has called us to is too significant. The calls of Christ is too significant. And I understand why Satan hates this ministry. I understand. I get it. No defense, endeavor to be offered, no deflecting or anything of that nature but we as a church have to settle in our hearts and our minds that we're going to go forward," he said.
"I assure you as I be a man of God — staff know, deacons know, elders know— that there is nothing illegal or unethical that is happening with the finances of this ministry. And if you are still not sure about that or need proof of that, just call the office. Schedule a time to come in, they will open up the entire cadre of financial statements, records and audits we have gotten done over the last several years," he continued.
"It is time for us to go forward. I apologize to you, I ask for your forgiveness. I forgive you, I forgive them, I forgive the bloggers, I forgive everybody but we absolutely have to go forward."
Last month, the NYPD confirmed that detectives were investigating a complaint of aggravated harassment against Couzens after Garrison alleged that she was threatened with blackmail unless she recants certain claims about her sexual relationship with the preacher.
The NYPD said no arrests have yet been made in that case.