Bittersweet: Christian Father of 8 Killed While Driving Family to Hospital for Birth of Son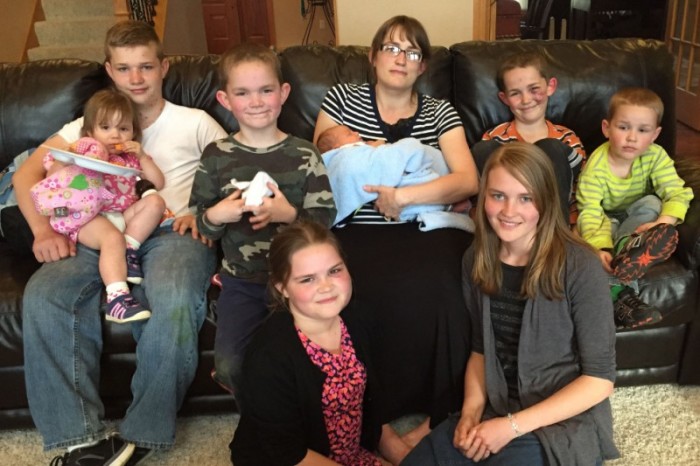 A trip to the hospital that was supposed to end in a joyous celebration of life for a Christian Wisconsin family turned into a bittersweet event mixed with death Friday when the family's faithful patriarch was killed in a freak accident involving a deer shortly before the birth of his son.
Michael Rogan, 46, his wife, Niki, and their seven children were en route to a hospital in Wausau, Wisconsin, last Friday, when the vehicle in front of them hit a deer and sent it flying into the Rogans' windshield. Michael, who was driving, was severely injured while Niki managed to steer the van into a ditch, preventing further tragedy.
The entire family was rushed to the hospital, where Niki delivered a healthy baby boy named Blaise. Unfortunately, however, Michael did not survive his injuries and was pronounced dead at the hospital.
"To lose your husband in the morning, to have to go through labor and right before labor tell your children what happened, and I was by her side the entire time during labor and she did so fantastic," Niki's cousin, Jade Nikolai, told WSAW. "She (Niki) said, 'I know everything is going to be okay. I knew it was going to be okay. We're going to be okay and it's going to be hard, but we'll be good.'"
The couple were faithful members of St. Mary's Oratory in Wasau, where Michael was a member of the church choir, The Holy Name Society, the church's men's group and served as an example to all the fathers and young men, said Father Aaron Huberfield of St. Mary's Oratory.
"He was a dad who led by example. He was not a dad who dropped his kids off at events and that was it, he was involved in everything. He was a dad who was not just here on Sunday; I usually saw him at least three times a week because he would bring his kids here. He was involved with the youth, he sang in the choir, he was a huge example to the boys in all our initiatives for the boys. He was very active in knowing every element of the life here," Huberfield told The Christian Post.
"He wasn't a dad who, after mass, would hurry up and go home to catch the game on TV. No, he'd stay here and we'd pick up a football and play a game. He was an example for everyone — and he set an example of unbridled enthusiasm for the church," Huberfield added.
That enthusiasm is now inspiring the men of the community, who have offered to step up and help Niki with the children and anything the family may need in the future.
Niki and her children were released from the hospital on Friday night and managed to make it to mass on Sunday. Blaise was baptized after service, and nearly 100 people stayed to celebrate the baptism with her.
"I don't think she's missed a mass because of a child birth," said Jade. "She wanted to go and she said it would be hard for her to be there and talk to everyone, but she said well I have to do it and I feel the love from everyone and this is my family — this isn't just a church family, this is my family."
The community has come together to remember Michael and support Niki and the family by establishing an account on GoFundMe, where people can donate any amount of money to go directly to the family. The family has received over $300,000 in just three days, and the person running the campaign, Cecilia Martin Gruetzmache, has changed the goal from $250,000 to $500,000.
"That juxtaposition of life and death all happening in one day, within hours of each other … just to have one of those things happen is so profound, but to have them both happen so closely together, I think people are really stricken by that," Cecilia told WSAW.