Black Pro-Lifer Tells Obama to 'Get Out' in New Ad
An outspoken African-American pro-lifer is being blunt in his new ad: Get Out Barack Obama.
Ryan Bomberger, co-founder of The Radiance Foundation, released the ad – complete with a jingle – this week, blasting the president for his pro-abortion and pro-gay policies and his failure to make the economy stronger.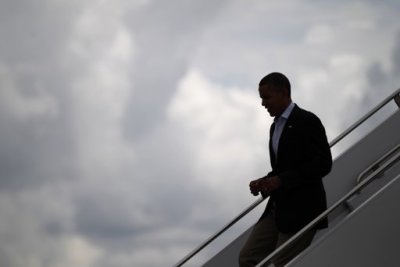 "I'm as black as Obama, and I'm tired of any legitimate criticism of the President's policies reduced to lazy and ludicrous charges of racism. Obama and the Democrats have been promising a whole lot of hope and change but, instead, have delivered higher unemployment, higher poverty rates and millions more welfare enrollees while aggressively promoting abortion in the black community," Bomberger said in a statement.
"Unemployment among Blacks was 12.7% when Obama took office. It spiked at 16.7% last August and remains at 14.4% today. Abortion, which has cultivated a culture of abandonment, occurs up to 6 times more in the black community than in the majority population. Yet, President Obama persistently promotes Planned Parenthood, the nation's largest abortion chain, which claims that 'abortion and food stamps elevate the black community.'"
The new ad tells Americans to vote Obama out.
Among the actions that Bomberger sees Obama making:
• "So marriage needs redefining."
• "Freedom of religion doesn't mean a thing" (with Obama, in Bomberger's words, stating: abortion trumps freedom of religion, therefore, your rights of conscience have been revoked).
• "Spent billions to make a worse economy."
• "I feel imprisoned by your Obamacare policy."
Bomberger said he's tired of losing the liberties that make him and others American. He described his approach with the ad as respectful "but unapologetically straight to the point."
"Freedom is only as long-lasting as our willingness to fight to defend it," he asserted.
Bomberger is a child of rape who was adopted into a multi-racial family of 15. He is outspoken in his opposition to abortion and has sparked debate over his "Too Many Aborted" billboard and Web campaign. The campaign labels African-Americans as an "endangered species," and tries to educate the public about abortion being the number one killer of blacks.
The Obama administration has been under fire over a health care mandate that requires employers – including religious hospitals and schools – to cover contraception, abortifacient drugs and sterilization in their employees' insurance plans.
Catholic and evangelical groups have argued that it violates their religious freedom.
A group of black pastors, meanwhile, has also placed pressure on Obama following the president's announcement this year that he supports same-sex couples getting married. The Coalition of African-American Pastors has called on black voters to withhold their support until Obama grants a meeting with the group.