Black Students Kicked Out of Donald Trump Rally in Georgia: 'Trump Did Not Want Us There'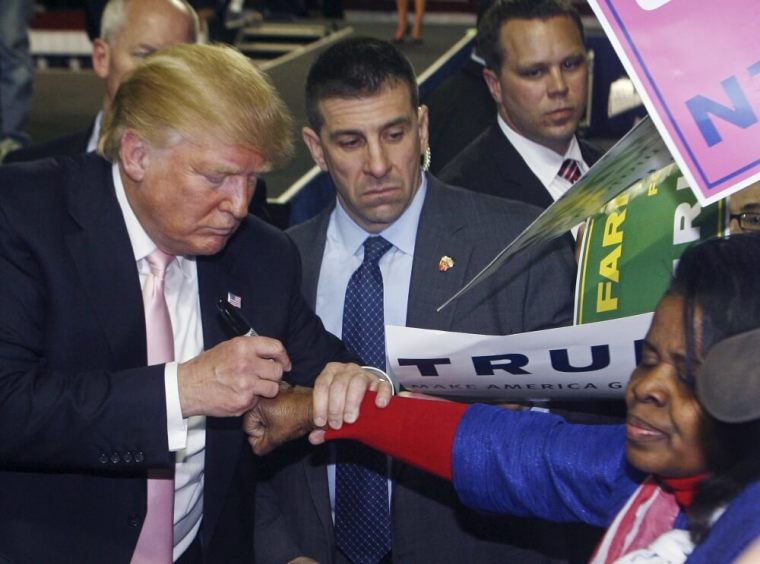 A group of about 30 African-American students were escorted out of a campaign rally for Republican frontrunner Donald Trump at Valdosta State University in Georgia on Monday, even though the students claim they were not causing any disruption.
While there are conflicting reports as to why the group of black students were escorted out of the PE Complex, the Des Moines Register initially reported that the African-American students were ejected from the facility "at the request of the candidate" or his campaign team.
According to one student, the group attended the rally with the plan of sitting quietly in protest and did not plan on disrupting the event in anyway. Before the event could start, the students were standing at the top of the bleachers when they were told they had to leave and then were escorted out by local police.
"We didn't plan to do anything," 19-year-old mass media major Tahjila Davis told the Register. "They said, 'This is Trump's property; it's a private event.' But I paid my tuition to be here."
Brooke Gladney, a 22-year-old marketing and business management major, told the Des Moines Register that the reason that they were given for being tossed from the event was that "Mr. Trump did not want us there."
Late Monday night, the Trump campaign denied that it had any knowledge of the students' removal until after reports were published about the incident.
"There is no truth to this whatsoever." Trump spokeswoman Hope Hicks stated in an email to the Daily Mail. "The campaign had no knowledge of this incident before being alerted to this false report."
Despite Hicks' statement, Valdosta Police Chief Brian Childress told USA TODAY that students were told to leave "by the Trump detail."
Although the students claim that they were not at the event to cause a disruption, Childress explained that Trump staff told him that that the students were ejected because they were using foul language that included F-bombs. Childress defended the campaign's decision to eject the students.
"What I resent is now some of these folks are going around saying it was a black issue. That's total nonsense," Childress argued. "I personally asked why were these folks told to leave and the reason was: they were being disruptive. The Trump staff said they were using profanity. The F-bomb is one word that was used. You can't be in there using profanity. That violates Georgia law."
The ejection of the students comes as Trump has come under fire after he failed to disavow former Klu Klux Klan grand wizard David Duke over the weekend after Duke issued a statement of support for Trump last weekend on his Facebook page.
Last week, Trump touted a "recent" survey that found 25 percent of African-Americans would vote for him over Democratic frontrunner Hillary Clinton in a hypothetical general election, adding that such a high amount of black support would make him more electable than other GOP candidates.
However, the "recent" poll that Trump touts is actually from last September. Trump has not faired as well with the black vote in more recent surveys of African-Americans.
According to FactCheck.Org, six polls from February show that 4 to 12 percent of black voters would support Trump in a general election, which is about the usual amount of African-American support that Republican nominees receive in general elections.
Trump has drawn the support of at least 10 black pastors, including South Carolina pastor Mark Burns, Ohio pastor Darnell Scott and Rev. Steve Parson from Richmond, Virginia.
In December, Trump held a meeting with over 100 black pastors at the billionaire's office in Manhattan. Prior to the meeting, the Trump campaign sent out a press release saying that the pastors would be endorsing Trump. However, a number of the pastors came out stating that the meeting would not equate to an endorsement of the real estate mogul.
Trump recently drew the praise of Louis Farrakhan, a prominent black activist and senior leader of the Nation of Islam religious movement who likes the fact that Trump doesn't need campaign donations from Jewish people.
"[Trump] is the only mem­ber who has stood in front of the Jew­ish com­mu­nity, and said 'I don't want your money,'" Farrakhan said during a sermon last week. "Anytime a man can say to those who con­trol the pol­i­tics of Amer­ica, 'I don't want your money,' that means you can't con­trol me. And they can­not afford to give up con­trol of the pres­i­dents of the United States."
Farrakhan's statement seems to be referring to Trump's remarks to the Republican Jewish Coalition on Dec. 3.
Trump told the crowd: "You're not gonna support me because I don't want your money."
"You want to control your politicians, that's fine," Trump added. "Five months ago I was with you."