Donald Trump Declines to Repudiate KKK, Admires Fascist Leader Mussolini Quote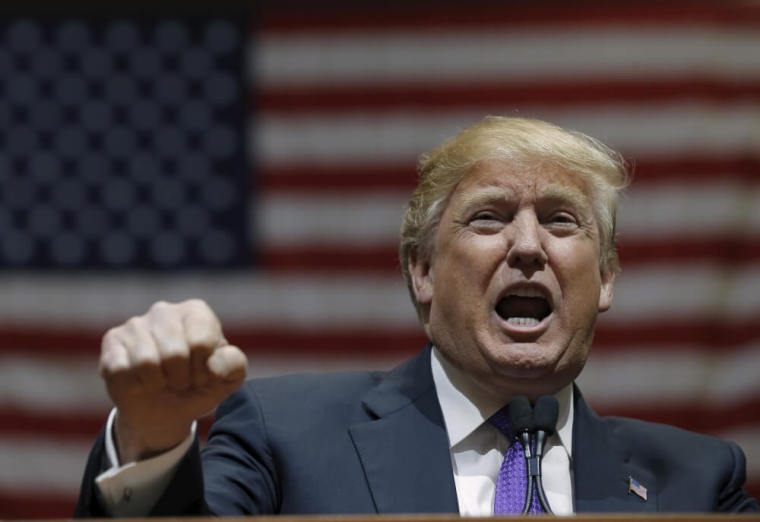 Republican Presidential candidate Donald Trump is facing controversy after initially saying he did not know enough about Ku Klux Klan grand wizard David Duke to disavow him, and for a separate incident where he re-tweeted a quote by Italian fascist leader Benito Mussolini.
As CNN pointed out, Trump has been backed by the infamous white supremacist group, and in an interview on CNN's "State of the Union" Sunday he said that he did not know enough about Duke to disavow his support.
"Just so you understand, I don't know anything about David Duke, OK?" Trump said.
"I don't know anything about what you're even talking about with white supremacy or white supremacists," the Republican frontrunner added. "So I don't know. I don't know — did he endorse me, or what's going on? Because I know nothing about David Duke; I know nothing about white supremacists."
Trump was asked two more times if he disavowed the KKK leader and he refused to do so.
Duke has backed Trump on a number of issues, including his promises to deport illegal immigrants.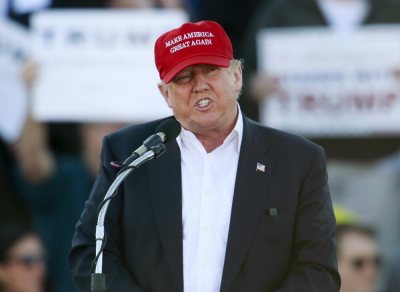 On Wednesday, Duke told listeners of his radio show that "voting against Trump" is "treason to your heritage," Buzzfeed reported.
"I think he deserves a close look by those who believe the era of political correctness needs to come to an end," Duke has also said of Trump.
CNN pointed out that Trump has referenced Duke in past speeches, however, including one on Friday at a press conference where he responded to a question and said: "David Duke endorsed me? OK, all right. I disavow, OK?"
Trump retweeted later on Sunday his own comments from Friday, seemingly to clarify that he does indeed disavow Duke.
One of Trump's main GOP rivals, Senator Marco Rubio, reacted to the KKK controversy by stating that it shows Trump cannot be the leader of the country.
"We cannot be a party that nominates someone who refuses to condemn white supremacists and the Ku Klux Klan," Rubio said, according to Fox News. "Not only is that wrong, it makes him unelectable."
South Carolina Sen. Tim Scott, the only black Republican in the U.S. Senate and a Rubio supporter, strongly condemned Trump's refusal to immediately disavow KKK support.
""Any candidate who cannot immediately condemn a hate group like the KKK does not represent the Republican Party, and will not unite it. If Donald Trump can't take a stand against the KKK, we cannot trust him to stand up for America against Putin, Iran or ISIS," Scott said.
In a Monday op-ed for The Washington Post, Joe Scarborough, a former Republican congressman and host of MSNBC's "Morning Joe," warned that Trump's actions could signal the end of "the party of Lincoln."
"Sunday's distressing performance is just the latest in a string of incidents that suggest to critics that Donald Trump is using bigotry to fuel his controversial campaign," he wrote.
Trump has meanwhile defended himself in a separate controversy in which he re-tweeted a quote originally attributed to Mussolini, the infamous dictator of the National Fascist Party.
"It is better to live one day as a lion than 100 years as a sheep," the quote reads.
When asked about it in an interview with NBC's "Meet the Press" on Sunday, Trump responded by saying: "Look, Mussolini was Mussolini."
Trump added: "It's a very good quote, it's a very interesting quote, and I know it. I saw it. And I know who said it. But what difference does it make whether it's Mussolini or somebody else? It's certainly a very interesting quote," Trump added.
He continued: "That's probably why I have between Facebook and Twitter 14 million people when other people don't."
Gawker's Alex Pareene revealed that there was an intentional effort made to get Trump to retweet Mussolini's quote, as it was originally tweeted by a mock Twitter account which posts quotes from writing and speeches of the fascist dictator.
"Last year, we set a trap for Trump," Pareene wrote.
"We came up with the idea for that Mussolini bot under the assumption that Trump would retweet just about anything, no matter how dubious or vile the source, as long as it sounded like praise for himself."