Donald Trump Would Lose to Both Hillary Clinton and Bernie Sanders in November, CNN Poll Projects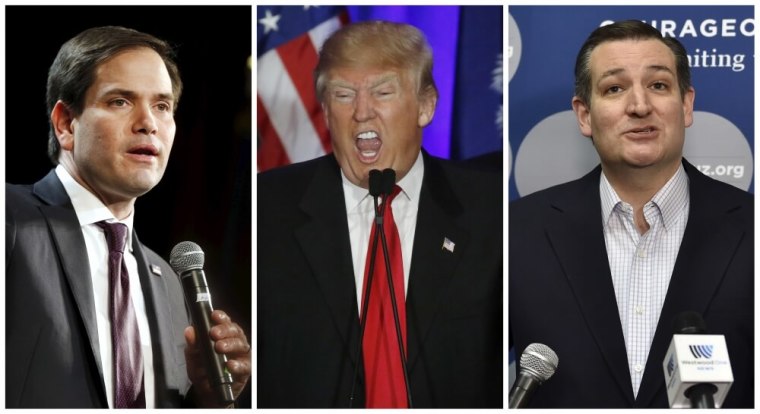 A CNN/ORC Poll released on Super Tuesday has projected that Republican front-runner Donald Trump would lose to both Democratic candidates Hillary Clinton and Bernie Sanders at the general election in November, with Senators Marco Rubio and Ted Cruz both having better chances at beating the Democrats.
The survey of 920 registered voters, which was conducted February 24-27 and has a margin of sampling error of plus or minus 3 percentage points, found that Clinton would beat Trump 52 to 44 percent. Sanders is projected to fair even better, looking at 55 to 43 percent against Trump.
There were mixed results when it came to the other hypothetical matchups, with Florida senator Rubio leading against Clinton 50 to 47 percent. Rubio would face a tougher time against Sanders, the poll predicted, however, losing 53 to 45 percent.
Only a single point currently separates Cruz from Clinton, with the Texas Senator holding a 49 to 48 percent advantage. Sanders is also predicted to do well against Cruz, however, with the Vermont Senator beating Cruz by the highest margin of 57 to 40 percent.
Despite the hypothetical matchups for November, both Trump and Clinton are expected to win big in the Super Tuesday primaries of 12 states and one U.S. territory, a summary of polls compiled by RealClearPolitics.com suggested.
Trump continues to draw strong poll numbers despite a series of controversies, including one concerning the Ku Klux Klan. Although Trump later clarified he disavows KKK leader David Duke, he was initially hesitant to condemn him when asked in a CNN interview.
"I don't know anything about what you're even talking about with white supremacy or white supremacists," Trump said on Sunday.
"So I don't know. I don't know — did he endorse me, or what's going on? Because I know nothing about David Duke; I know nothing about white supremacists."
Trump's commanding lead in the polls was illustrated by another compilation by the Huffington Post, which said that Trump is leading the Republican field at 41.9 percent, followed by Cruz with 18.3 percent and Rubio at 17.2 percent. Although Trump has been strongly critisized by his fellow candidates, he was boosted last week by the endorsement of New Jersey Governor Chris Christie, who dropped out of the race.
The Super Tuesday CNN poll found that voters believe divisions in American society are growing bigger, with 78 percent of Democrats, Republicans and independents all indicating that the country is more divided on major issues now than in the past.
Trump and Clinton were most often selected as the candidates that could best handle specific issues, with Trump topping the list in the areas of the economy, terrorism, and immigration, while Clinton was the top choice in the areas of health care, race relations, and foreign policy.
Sanders was the only presidential candidate to be seen favorably by a majority of voters, however, with 60 percent saying they view him positively, and only 33 percent negatively.