Black Suspects, White Cops and What I Saw in Dallas
Black Suspects, White Cops and What I Saw in Dallas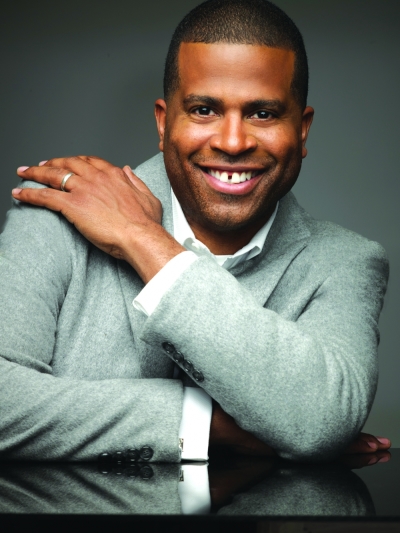 The current atmosphere on the streets of Dallas, Texas is reminiscent of 9/11, another event where premature death permeated the air. Standing in the front as DART Commissioner Brown pointed everyone to the good book, I heard him describe how the officers and their families will always be loved. It was an amazing memorial.
While in Dallas, I also attended a meeting with Deputy Mayor Erik Wilson, judges, police officers, pastors, and Black Lives Matter members. People were asked how they felt and the police said, "Scared."
It is a sad and dangerous time. Police are fearing for their lives while people are still gathering to make sure attention doesn't wane on the recorded deaths of Alton Sterling and Philando Castile. You can feel and see the uneasiness of the officers in Dallas, who wonder if there is going to be a copycat killer.
I was sick with sadness at the memorial service because premature death is wrong. As a New York City pastor I can give you a window into this world of premature death. The affected families feel like they have become celebrities of sorrow.
As they mourn, their phones ring and flurries of text messages are coming in. They are trying to plan funerals while strangers are petitioning to speak at the services: not to grieve with the family, but to selfishly use the service as a media platform. Not all families are organized; not all have their paperwork in order with insurance companies; not all have the cash needed for funeral expenses. I implore you to pray for the Castile family, Sterling family, Ahrens family, Krol family, Smith family, Thompson family, and Zamarripa family.
Eventually the media will move on, the crowds will die down, and the rush of reality will come crashing in on these seven families. Christians, pray for Jesus to show up in that moment. These families will need a love and a peace that surpasses human comprehension.
I spoke with Dafina, the mother of Diamond Reynolds, who recorded Philando's death live on Facebook. Dafina had been alone when the sober reality set in, for the first time, that Philando will not be around on earth again. We prayed together for the police officers' families while on the phone. I told her that I'd met and prayed with police wives in Dallas and her heart, though still hurting, was filled with joy. Dafina was alone, but was connected by prayer to a community that felt her pain.
There are no winners in these deaths. The shooters and their families will never be the same. They will forever be different as they tell people of a heinous crime committed before the world. Moreover, our lives will never be the same. Black Lives Matter people remain on the streets, waging their argument against police brutality. A mixed group of young people — White, Black, Latino and Asian are hoping for a fair trial. Pray for them, Christians, as some do not know what to do with their pain and hurt. I am hoping God will open a door to preach Christ before them.
Pray for the people who believe that all the shootings are justified, and for those who think all police are sinless.
Sin is real. Police brutality is real. Protesters getting out of hand is also a reality. The difference between the treatment of White and Black people is sinful and wrong.
Joseph Houseman was pictured waving a rifle around in front of an officer at a Dairy Queen, and yet no officers shot him. He refused to drop the weapon and cursed the officers out for 40 minutes. In August of last year, Lance Tamayo pointed a 9mm at cops and children in San Diego for an hour as cops patiently spared his life and talked him down. Both Joseph and Lance are White.
Let's be honest: if a Black man is pointing a gun at an officer, that man will be shot. If you do not believe me, ask a police officer. I am asking: can Black people get even 5 minutes of negotiating? Can officers step back, as they risked with Joseph and Lance, and try to negotiate with persons of color — especially if they do not see a gun? That would be a great start. Can you join me in prayer over presenting this idea? The double standard must end. Pray for one treatment and one standard of law to be rendered to all.
African-Americans comprise about 40 million people in this country. Our voice and unique perspective are rarely offered on a consistent platform. Those in gangs represent just 1% of our population — some 490,000 people. Yet the other 99% of us have been consistently misjudged and forced to bear a heavy burden far too long, being overshadowed by the misguided 1%. Though the President of the United States is himself Black, the media still focuses primarily on the aggression of that one percent.
Understand: the vast majority of us do NOT gang-bang, steal from stores or shoot police officers when we are pulled over after a hard day's work. Intelligent and informed African-American voices abound but are often cut short on film, television, and radio talk shows.
Black people have lived through a history of the harshest treatment imaginable during slavery. Most of us have great-grandfathers who were slaves; that is not so long ago. However, we do not walk around with a "payback" attitude. Our churches preach forgiveness and love of all people.
We need White Christians to understand that we do not live with an "us-versus-them" attitude. We are mourning with the officers' families. I love all people, and it is rare to find a Black person who hates White people. If a person in Christian community speaks negatively about other races, then as a community we challenge that person in love.
God has blessed us with hearts that forgive the past atrocities of unjust hatred. Most people are praying to see God remove officers who live by "shoot first, ask questions later." Pray for the 99 percent of African-Americans who do not gang-bang, who really live under the caution that police may harm them.
Pray for the misguided 1% to come to Jesus Christ and drop the gangs. Pray for police officers to treat the peaceful African-Americans appropriately, in a spirit of mutual peace. Our country must change. These killings have to stop. We all need to encounter Jesus, desperately. We need a heavy dose of His love to permeate the hurts of America in these times.
Our country needs serious prayer. I am crying for the Lord of lords to shine His justice on us all.
Dimas Salaberrios is pastor of Infinity Bible Church, which he founded in partnership with Tim Keller and Redeemer City to City, in the South Bronx of New York City. Infinity targets at-risk youth and spearheads numerous outreach events and discipleship groups. As a worldwide missionary, church planter, and speaker, Pastor Dimas has shared the gospel on every continent except Antarctica. He is also president of Concerts of Prayer Greater New York, and he holds a master of divinity degree from Alliance Theological Seminary. He and his wife, Tiffany, live in the Bronx with their two daughters. Learn more at streetgodbook.com.